Best Projector For iPhone
Don't you just hate it when you're on vacation, the weather's terrible, the kids are bored, and you wished you had just stayed home? I know exactly what you're going through. Yes, these days, there's streaming, and everyone has their own tablet or smartphone, but that kind of misses the point of a family vacation, don't you think?
Projectors for iPhones are not just for family vacations, though; what about at work? Let's say you have an essential presentation you want to deliver? What are you going to do; pass your iPhone to your boss? 
What if you could cast the images onto a big screen on the office wall, without big and bulky equipment? What kind of impression would that make to your boss? I bet the boss would be impressed with your initiative?
Bringing a giant screen on vacation or into the office for your presentation sounds pretty impressive, but carrying loads of heavy and bulky equipment around isn't the answer. But if you had the best projector for iPhones, you could solve all of these problems.
Unfortunately, suppose you are new to projectors, and you're not sure which of the many available options you should choose. In that case, we can solve that particular problem for you with our best portable projector for the iPhone guide.
Let's jump right in with our pick of the best projectors that balance performance and budget.
Top 5 Best Projectors For iPhone
1.

Optoma ML750ST Ultra-Compact Short Throw LED Projector
The Optoma ML750ST portable projector fits in the palm of your hand and weighs less than one pound; you don't get much more portable than that. Plus, it's compatible with your iPhone and other devices.
Whether you're taking it on a camping trip, RV, or in your briefcase for an important business meeting, this projector will take up a minimal amount of room.
It's not just the size when you're carrying it around that counts; when you don't have much room to show your presentation or watch a movie, you'll find the ML750ST can easily project in exceptionally tight spaces. 
The short-throw lens will operate from only six feet from the screen, yet you can still enjoy a giant 100″ image; that's pretty nifty. The auto keystone is a straightforward setup; just pop the projector down, and the keystone sensor will straighten up the image.
There are 700 lumens of brightness, and the LED light source offers 20,000 hours of life; that's 5 hours every day for over ten years.
There's no necessity for your PC to be involved in this; a PC-free media player, image viewer, and document reader from a USB storage device or microSD card.
The 20,000:1 contrast ratio and WXGA 1280 x 800 resolution produce crystal clear images and video with brilliant colors.
Why We Like It: The ML750ST is compact, fits in hand, and weighs under one pound.
Key Features – Optoma ML750ST:
Fast response time
Low latency
20,000:1 contrast ratio
700 ANSI lumens
MHL compatibility
Auto keystone
LED light source provides 20,000 hours of life
2.

Artlii WiFi Bluetooth Projector For iPhone
Why not enjoy an immersive cinema-level experience with the Artlii WiFi and Bluetooth mini projector. Home projector screen sizes of 37 inches to 300 inches from 3.87 feet to 31.8 feet away. Using the remote control, you can also customize the giant screen size with image zoom from 60% to 100% using the remote control.
The wireless WiFi phone screen mirroring allows you to transfer movies, videos, images, and games from iOS and Android smartphones to project to the big screen. Perfect for when on holiday, camping, outdoor or business presentations.
There's an abundance of digital connectivity options for the Artlii projector from HDMI, USB, VGA, AV, and SD card. First and foremost, you can connect the projector via WiFi, but it can also be wired. HDMI and USB ensure you can connect TV sticks, PCs, laptops, MacBooks, gaming stations, and of course, your iPhone or other smartphones and tablets.
The picture quality from this mini projector is outstanding and works exceptionally well for outdoor viewing. Many mini projectors support 1080 yet only output in standard def; however, the Artlii has an actual high def 720p output.
If you want to improve the sound quality, which you might, if you're outdoors, connect the projector to an external speaker via Bluetooth.
Why We Like It: Even though the Artlii is inexpensive and compact, the Artlii projector puts out a top-quality bright,  crystal clear image.
Key Features – Artlii Bluetooth Projector for iPhone:
Full HD 1080P supported
LED light bulb
WiFi & Bluetooth connection
Built-in 5w stereo speakers
Screen size from 37″ to 300″
+/-15-degree keystone correction
60% to 100% zoom function
Numerous connectivity options
3.

DBPOWER Projector, Upgraded 3500 Lux Mini Projector
The DBPOWER 3500 Lux Mini Projector produces excellent high-quality images; the manufacturers claim 70% brighter and 50% sharper images than other brands of mini projectors. Together with a decent 2000:1 contrast ratio and supporting 1920 x 1080 resolution, they produce a projector image ideal for home entertainment.
Although the projector displays images from 32 inches to 170 inches with a projection distance of between 1.8 and 5 meters, the ideal position for optimum viewing is 1.8 to 2.0 meters and adjusting manual keystone correction and focus.
The DBPOWER is compatible with Fire TV sticks, PCs, laptops, DVD players, SD cards, USB, iPhone, and other smartphones. To connect any smartphone, an HDMI adapter is necessary.
The DBPOWER incorporates pure copper tube cooling technology for a fan noise suppression system for enhanced viewing pleasure. In all fairness, you'll still probably want to hook up an external speaker system for better sound quality; we can say the same thing about most projectors, though.
The projector comes with very decent setup instructions, which you can't say about every set of instructions you receive.
Why We Like It: The DBPOWER RD820  mini projector is an absolute bargain for the price and offers decent connectivity and good levels of brightness.
Key Features – DBPOWER RD820 3500 Lux Mini Projector:
Upgraded to 3500 lux with +70% brightness
Large screen experience
Displays images from 32 to 170 inches
Portable
Fan runs quietly
Budget-priced
Compatible with iPhones and other devices
3-year manufacturers warranty
4.

BIGASUO HD Bluetooth Mini Projector With Built-in DVD Player
The BIGASUO Pro302 mini projector is an excellent piece of kit and includes a built-in DVD player. Now I know most people are into streaming movies these days, but some folks are still out there with a massive DVD collection of their favorite movies; this mini projector is for them.
What's excellent with this projector is you don't need to buy or hook up a separate DVD player; you can play those movies on the projector and directly onto the big screen.
The BIGASUO has a native 720p (1280 x 720) resolution and a very decent 6000:1 contrast ratio, which is supercritical if you want to watch a movie even with some ambient light. Top-quality coated lenses give a much higher level of picture reproduction with richer color levels.
Watch your movies on a massive screen up to 200 inches; the Bluetooth function means you can hook up an external speaker source if you need more sound.
Connectivity options are decent, and the projector is compatible with most devices with HDMI, AV, VGA, and Micro SD card.
Included with the projector are a neat carrying case and a tripod.
Why We Like It: The BIGASUO works well with ambient light, and the short-throw means you can position it close enough to the screen so it doesn't cast shadows if anyone moves around the room.
Key Features – BIGASUO Pro 302:
Display resolution 1280 x 720 (1080 supported)
Minimum throw distance one meter
2-in-1 projector and DVD player
Maximum 200-inch screen
Bluetooth function
Adequate connectivity options
Free carry bag and tripod
5.

TOPVISION 5500L Outdoor Movie Projector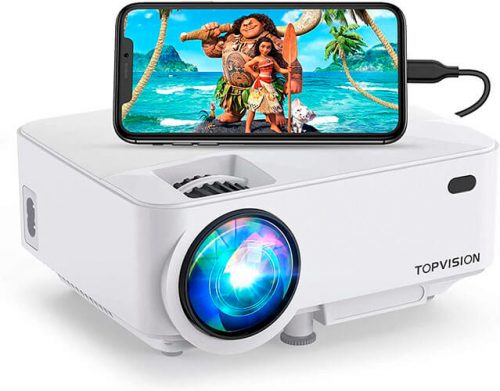 The TOPVISION 5500L outdoor movie projector is an LED mini projector aimed at users who want to play movies on their outdoor deck or take the projector on trips. LED lights tend to produce brighter images than pico or palmtop projectors.
If you're concerned about the price of a good LED projector, you don't need to be when you see the value you will get with the Topvision 5500L for the budget cost.
Because the projector is full HD resolution, you can project images from 32 inches to 180 inches with a minimum throw-distance of 4.9 feet.
When we say you can watch movies outdoor, we mean it this projector has upgraded to 5500lux LED  and has a 3000:1 contrast ratio, essential for dark colors. With the brightness of the LED, you will also not to worry about the projector overheating.
The 5500L isn't the smallest mini projector you'll find and weighs almost three pounds; however, it's equipped with high-fidelity speakers and a sound retrieval system (SRS) that improves the sound quality and volume.
Connectivity is decent with various ports such as HDMI, AV, SD, USB, and VGA. Connectivity is decent with multiple ports such as HDMI, AV, SD, USB, and VGA. You have +/- 15-degree keystone correction and focus adjustment to obtain the best viewing angle and viewing size. Synchronize your iPhone and Android devices via a wired connection.
Why We Like It: The Topvision 5500L incorporates a surround sound HI-FI speaker system with SRS sound technology.
Key Features – Topvision 5500L Mini Outdoor Projector:
Synchronize smartphone screen
5500lux LED video projector
Supports 1920 x 1080p
3000:1 contrast ratio
SRS sound system
Lamp life up to 80,000 hours
+/- 15 keystone correction
Projection size from 32 inches to 200 inches
Distance 1.5 to 7 meters
Two-year professional support
Conclusion
You might be spoiled for choice with projectors for iPhones but choosing the best one is not that easy. If you have decided to buy a mini projector, look at our guide and the five we recommend. I'm sure that at least one of them will meet your needs and budget.