Best Tripod for Spotting Scope and TOP 4 Reviews
If you're looking for the best tripod for spotting scope use, it's probably not the tripod that came with your scope. Most spotting scopes include a tripod as an accessory, but they're often small and flimsy.
They won't stand up over time, and they're usually too short for long range viewing. Instead of struggling to use the tripod that you have, consider getting a new tripod that will be much easier and a lot more effective.
Our Top Tripods for Spotting Scope
| Picture | Tripod for Spotting Scope | Review |
| --- | --- | --- |
| | Vanguard Alta Pro 263AB 100 Aluminum Tripod Kit | Our Review |
| | BARSKA Deluxe Tripod Extendable to 63.4″ | Our Review |
| | RetiCAM Tabletop Tripod | Our Review |
| | Bushnell Advanced Tripod | Our Review |
How to Find the Best Tripod for Spotting Scope Use
The best spotting scope tripod won't hold you back. It will allow you to look over hills and mountains. It will be easy enough to carry and set up without taking too much time out of your day.
The mount should be sturdy and durable, as some spotting scopes can be heavy and require proper weight balance to stay erect. The best tripod for spotting scope use relies solely on the features and the way they'll work for you.
Tripod Weight
Heavy duty tripods will last forever, but they're also difficult to haul around with you. If you're bringing your spotting scope to the great outdoors so you can observe wildlife, watch birds, get a close up view of faraway mountains, or even hunt, you'll have a lot of gear to take with you. Things get heavy, and a weighty tripod is one more thing you'll have to carry around with you.
Lightweight tripods can't withstand as much abuse, but they're far more portable. Most lightweight tripods weigh 2 pounds or less, so they barely add any weight to your baggage.
If you need a travel tripod, you'll prefer the convenience of a lightweight aluminum alloy tripod. They do sometimes get dinged up with use, but they're often inexpensive.
Tripod Mount
Cheap tripods don't feature multidirectional mounts. Unless you're only using your spotting scope to look up to the sky, a tripod without a multidirectional mount is virtually useless.
A good mount will allow you to scan the entirety of the area and track your subjects – a feature that is crucially important for people who love to watch birds or wildlife.
Hunters will even appreciate this feature for tracking prey. A great spotting scope will move as freely as your own arm, in any direction that you please.
Some tripods only focus up and down, and these are better for people who won't need to move them around much. Hunters who like to set up their scopes in a fixed position won't mind scopes that don't easily go side to side.
It's almost never necessary when you're observing for a long period, especially from a far distance. The focus of the scope can be adjusted instead to cover a wider area.
Tripod Size
Tripods come in different sizes, though most of them are fully adjustable. Some tripods have a low maximum height, and these are primarily designed for use while sitting or laying on the ground.
They also work very well as windowsill tripods if you're looking out an open window or through a deer blind.
Tripods at greater heights are better for people who need to see longer distances. They'll give you an excellent vantage point, allowing you to look up to the trees and over hilly horizons.
These tripods can often be condensed down to a size that would work from the ground level if you need them to. Tripods with higher maximum heights are undoubtedly the most versatile.
The Kind of Scope You Use
Some scopes are designed to be exclusively held. They don't even feature a place to mount them on a tripod, so purchasing one wouldn't do you any good. The kind of scope you use should have a large impact on the tripod you actually select.
Bird watching scopes and target practice scopes will generally need to be able to go much higher. Ground level hunting scopes only need a short height boost to be effective.
Reviews of the TOP 4 Best Tripods for Spotting Scopes
The best tripods for spotting scopes are all designed for specific purposes. The kind of scope you use and the places in which you use them will largely affect which tripods will be able to cater to you.
A tripod is more important than you might believe, and the right tripod can make all the difference in giving you an excellent viewing experience. These spotting scope tripod reviews will help you narrow down the list of possible candidates.
Vanguard Alta Pro 263AB 100 Aluminum Tripod Kit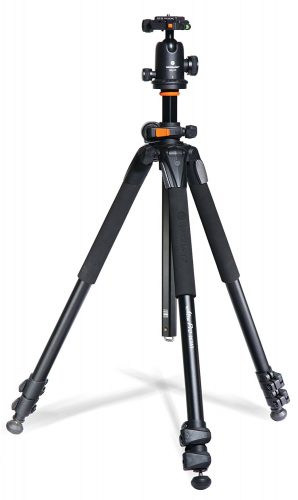 This tripod is designed to give you the perfect angle every time. If you need to overcompensate your view from looking downhill or on top of a boulder, this balanced tripod will adjust to three different angles – 25 degrees, 50 degrees, and 80 degrees.
This gives you some of the best commercially available low angle capabilities, so you'll never have to struggle to get the perfect view. With an extended height of over 68 inches, even the tallest users will be able to make the most out of this tripod.
Pros
The ball head on the mount can swivel a full 360 degrees, and it easily locks into place. It features levels, which is helpful if you have an ideal vantage point for a spotting location you tend to revisit often.
The weight capacity goes up to 15.4 pounds. If you like to use your spotting scope in conjunction with a camera for things like wildlife photography, this tripod can support them without needing any assistance.
This comes with a locking system for the central column. You can lock it right back into place in one motion.
Cons
This is an expensive tripod but the superior quality makes it worth every penny.
Verdict
This is easily one of the best tripods for spotting scopes. This is a premium piece of equipment designed to last a lifetime, and its angling ability is far superior to that of the average tripod.
If you don't want your tripod to limit your range of motion, this one undoubtedly moves the most freely. If you paid a pretty penny for your scope, the best way to keep it safe and make the most out of it is by mounting in on an equally premium tripod.
BARSKA Deluxe Tripod Extendable to 63.4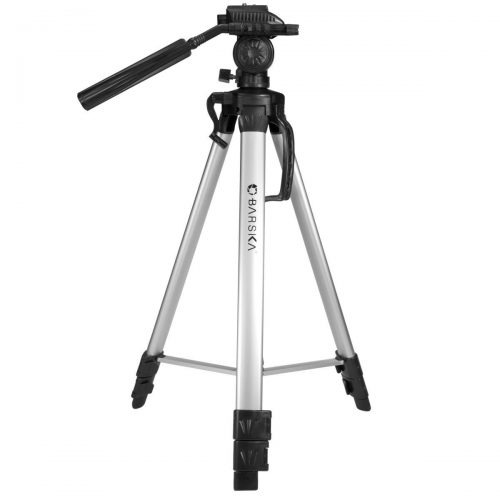 Barska is a brand known for their affordable optics, including spotting scopes that cater to all kinds of hobbies.
While most Barska scopes come with a mini portable tripod, serious enthusiasts prefer to swap that one out for a tripod of better quality. This is their step up tripod, and you'll be pleased with the value for the price. It's simple and inexpensive, but it just might be the best accessory for a hunter.
Pros
63 inch maximum height and 26.6 inch minimum height give this tripod a good range. It's modest, but in most cases, it's enough to get the job done.
Weight capacity of 6 pounds is perfect for a compact hunting spotting scope. Smaller models rarely weigh more than 5 pounds, so it's a safe bet that this tripod will be the perfect fit.
The tripod itself weighs only 4 pounds. It's easy to carry around with you while you're out in the woods.
Cons
Only has a two way head. You may need to move the tripod itself when you're trying to explore from different angles.
Verdict
The weight of this tripod might just make it the best spotting scope tripod for hunting. It isn't going to weigh you down. If you need to run, you can rest assured that this tripod won't make you feel overloaded.
It's basic, but it does extend much higher than the stock tripods that come with many spotting scopes. If you need a little more height, this is a great buy – especially for the meager price.
If you enjoy the style and simplicity of the short length tripods that typically come with spotting scopes but you're looking to upgrade to a more reliable model, this is the one.
This is a sturdy and durable mount that clearly beats the small, flimsy compact stock tripods. With a minimum height of almost 11 inches and a maximum height of 19 inches, this one stays down low. It's great for ground level spotting or windowsill spotting.
Pros
This has a 3 way head that can pan and tilt. You're getting an extra dimension above what the standard 2 way head offers, making this tripod a little easier to use than a basic model.
Locks are very large, so they're easier to secure. You won't have to fumble around with tiny plastic tabs to set the legs the way you want them.
5 pound weight makes this tripod extremely portable. You won't even feel it in your bag.
Cons
Since this is a short tripod, it doesn't have the same versatility as a tripod that extends several feet. You're confined to low vantage points. This is fine if you don't need to view things from higher up or prefer to set your tripod on a surface that's already raised.
Verdict
This is the best spotting scope tripod for people who prefer to keep things conventional. Hunters and target shooters tend to prefer shorter tripods for most tasks, and this is of the same variety.
It isn't fancy, and you don't have to worry about setting it up too high. It's a classic tabletop or windowsill tripod that's build strong enough to last for years. The 6 pound weight limit is perfect for any kind of spotting scope.
Bushnell makes spotting scopes, so their tripods are designed specifically for spotting scope use.
This isn't a camera tripod that's made to be universally used, but rather a specialized tool of the trade. It goes from a low of 18 inches to a high of 61 inches, allowing you to cover a lot of ground with a single tripod.
Taller people will be able to use this as a windowsill tripod when it's fully collapsed due to its ideal closed height.
Pros
The upper portions of the legs are padded with foam. When it's really hot or really cold outside, you don't have to worry about getting stuck to the poles or being burned by them. This is a simple comfort feature that shouldn't go unappreciated.
Comes with a 3 way tilt head that will allow you to explore a vast range of space. This is particularly helpful if you need your scope to be able to look down. If you're up in a tree stand, you'll definitely need to be able to tilt your scope downwards.
Load capacity of 11 pounds is good for spotting scopes with camera or smartphone attachments. It can support the extra weight.
Cons
The legs are standard wingnuts instead of quick release legs with tabs. Some people like the security and durability offered by these legs, but it does take longer to set up a tripod with wingnut legs.
Verdict
This is a good tripod for spotting scope activities that involve the use of a camera. It can handle a little more weight, and the legs are very secure.
The foam padding is a small addition, but it's one that people who are outdoors often will appreciate. The legs will never get slippery in the place where you need to grab them, and there's adequate protection against both very hot and very cold weather. It will always be comfortable to use this tripod.
Which is the Best Tripod for Your Spotting Scope?
The best tripod for spotting scope use ultimately depends on the kind of spotting scope you use and what you intend to spot with it. Where and how will you use your tripod?
The spotting scope tripod reviews demonstrates the best ways to use them. The most important factor to base your decision on is how the tripod will make your experience easier.