Best Spotting Scopes for Hunting and TOP 6 Reviews
If you're trying to find the best spotting scope for hunting, there are several things you'll want to think about. General spotting scopes aren't designed for hunting, and you could run into some problems related to subpar equipment.
Hunting scopes require certain features to work properly, and you'll need to understand what those are when you're looking for the right scope. These hunting spotting scope reviews will help you figure out exactly what you need.
Our Top Best Spotting Scopes for Hunting
| Picture | Spotting Scopes for Hunting | Review |
| --- | --- | --- |
| | BARSKA Colorado Waterproof Spotting Scope | Our Review |
| | Vortex 20-60×85 Razor HD Spotting Scope | Our Review |
| | Redfield Rampage 20-60x60mm Spotting Scope Kit | Our Review |
| | Bushnell Trophy XLT 20-60x 65mm Waterproof Spotting Scope | Our Review |
| | Barska Blackhawk Spotter with Hard Case | Our Review |
| | ALPEN Waterproof Fogproof Spotting Scope | Our Review |
What to Look for in a the Best Spotting Scope for Hunting
There are a few core differences between hunting scopes and regular seeing scopes that would be used for terrestrial viewing like watching wildlife. This is casual use equipment, so there's no need for it to be built durable and for long range viewing.
If you're looking at simple scopes for hunting purposes, you're going to wind up very disappointed. It's best to get a scope that's specifically designed for the task at hand.
Durability
For hunting purposes, you'll want a scope with rubberized armor. Since you're going to be using this scope near a gun, if not actually mounted to a gun itself, it needs to be able to handle kickback and flying debris.
Scopes that have simple plastic cases will crack if they're hit with pebbles or knocked over while you're hunting. They're a lightweight piece of equipment, so it's inevitable that they'll tumble once in a while when they're mounted to a tripod.
It's better to spend more money on a durable scope that will last you a long time rather than a cheap scope that will inevitably break. If you need to buy three cheap scopes because the cases keep cracking, you would have been better off purchasing a great scope to start with.
Sight Range
If you want to hunt inconspicuously, you'll need to be far enough from the animals where you're sure to see them before they have an opportunity to see you. This makes a long range on a hunting scope one of the most important features.
Depending on where you're hunting, you'll need a clear sight minimum of at least 200 yards to be effective.
Some hunting scopes go all the way up to 750 yards. While that's more than you might need to use, it's better to be over prepared than to not have when you need it.
A blurry view past 500 yards could cost you a perfect shot. Always go for a little more than what you need.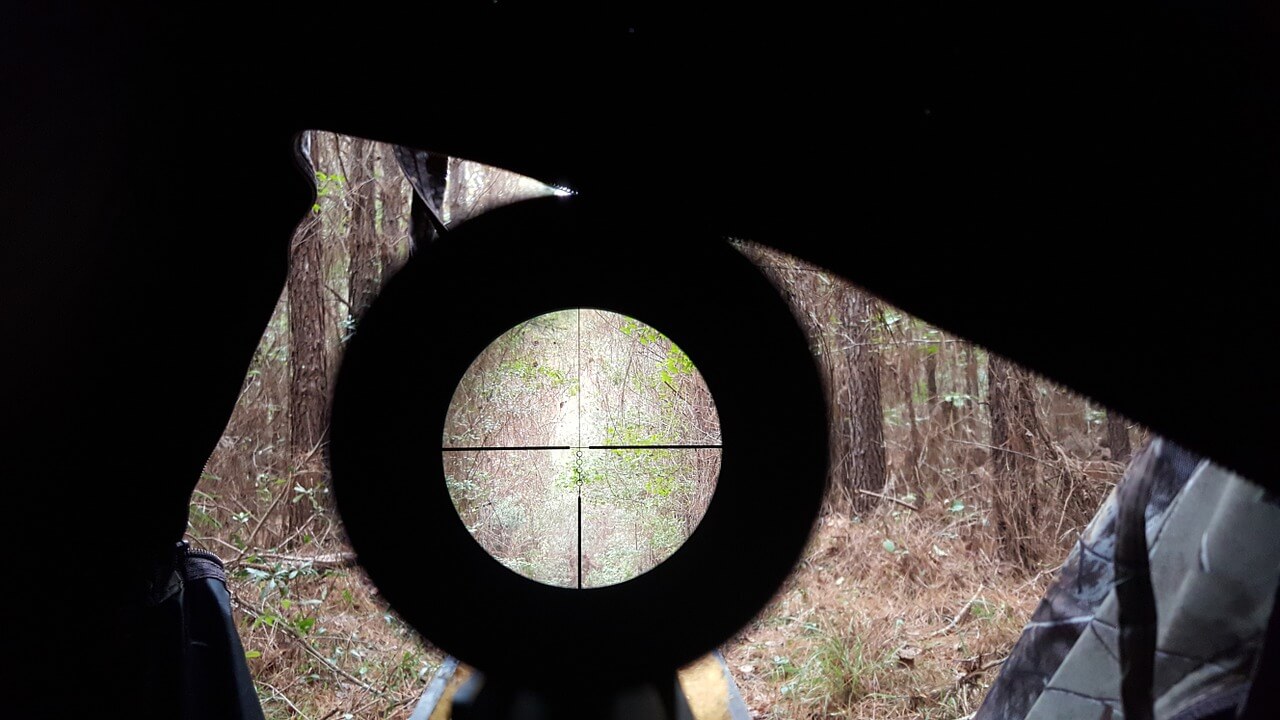 Bonus Features
One of the most desirable features that come on some of the best spotting scopes for hunting is waterproofing. Most high tech scopes are not only waterproof, but also fog proof.
This keeps water from seeping into the scope and destroying your view until it's been left in the heat to dry. Fog proofing on the lens prevents morning dew from collecting on the lens.
When you buy waterproof and fog proof spotting scopes, there's never any interruption in what you're doing. You won't have to go indoors when it's raining, and you'll never have to stop to wipe the lens.
You can hunt in any weather and at any time of day without having to stop to fix up your scope. You'll never miss another shot again.
TOP 6 Hunting Spotting Scope Reviews
You'll find the best spotting scope for hunting right here on this list. These are a variety of top rated hunting scopes, and one of them is sure to fit all of your criteria.
There's an incredible scope for every budget and every type of hunter. You're bound to be able to make a decision based on the information here.
BARSKA Colorado Waterproof Spotting Scope

This is Barska's entry level scope, and it's perfect for an entry level hunter. If you don't go hunting very often, you probably don't want to spend hundreds of dollars on a scope that you won't use on an everyday basis.
This scope is perfect for the occasional hunter. It isn't overpowered, and the specs are perfect for the average hunting trip.
Pros
This scope can technically spot up to 1000 yards, but it works perfectly up to 500 yards without having to strain your eyes.
This scope is both waterproof and fog proof. Most scopes designed for all weather use are a lot more expensive than this one – you're getting a great deal here.
Optics are fully coated for sun protection.
Cons
Slightly lacking in eye relief. You won't want to use this for an extended period without taking breaks – it could be uncomfortable.
Verdict
This is the best compact spotting scope for hunting. It comes with all of the features that hunters love, and it doesn't cost a fortune.
This is a basic scope that offers more than the average starter scope without much of a price difference. You're getting affordable quality and a dependable scope.
Vortex 20-60x85 Razor HD Spotting Scope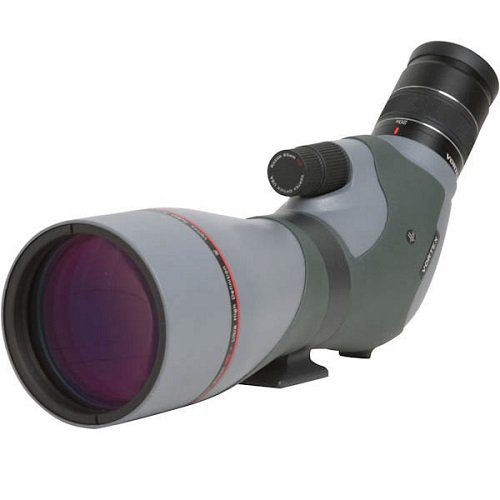 This is a premium scope for the serious hunter. If you take pride in the quality of your tools and you're the kind of hunter that likes to stay current with technology, this is going to be a hands down favorite for you.
It features HD quality optics that rivals the quality of cinematic cameras. The lens is 85 millimeters, which is significantly larger than the average spotting scope lens.
Pros
This scope is completely waterproofed and defogged from the inside out. The waterproofing is so secure that nothing will get inside of the scope – including stray dirt or debris.
Armor Tek casing makes this spotting scope virtually indestructible.
Porro Prism technology allows the perfect amount of light in for a clear and perfect picture without creating glare and harming your eyes.
Cons
This is a premium scope, so it comes at a premium price.
Verdict
If you need a scope that can show you over 1000 yards, this is the one. This is the best spotting scope for long range shooting available on the commercial market.
It's so powerful you can even use it to observe the craters on the moon. This is a spotting scope that will consistently over perform for you. There's absolutely nothing it can't do.
Redfield Rampage 20-60x60mm Spotting Scope Kit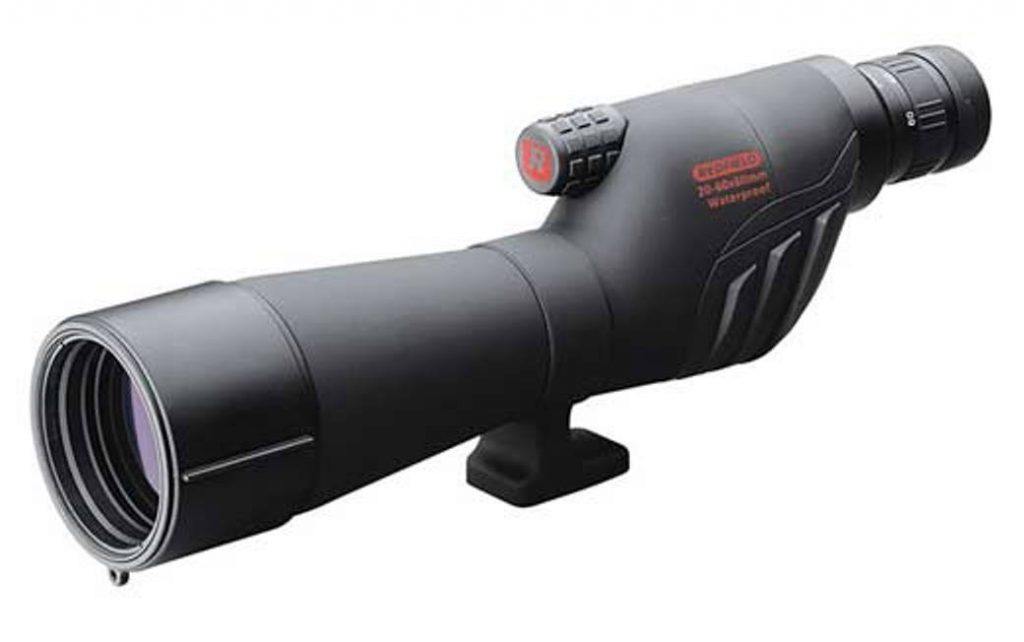 This is an affordable scope that provides a lot of balance in its features and its ease of use. This hunting spotting scope will reach peak performance at about 400 yards, which is an ideal range for the average hunter.
It's slightly better than your average entry level scope, though it's not much more expensive. This is a perfect compromise for the smart shopper.
Pros
The price is very reasonable for what you're getting. This is well worth the money for a simple scope, and it's optimized for the everyday hunter. You'll get a lot of use out of this, and it will practically pay for itself.
Focus starts to go soft past 400 yards. You can technically still make good use of this up to 600 yards before the image gets distorted.
The kit portion of the scope will prove to be useful. You're getting a carrying case, a strap, a tripod, and covers for both the lens and the eyepiece.
Cons
Strap is built onto the scope cover. You need to make sure the cap is completely locked into place before you carry the scope by the strap.
Verdict
You're getting everything you'll need at a price you can afford. If you only hunt during deer season or hog season, you'll find that this scope will allow you to do everything that it needs to do.
If you want a decent scope without a lot of fuss, you're going to appreciate the simplicity of this scope. It's easy to set up, and it features all of the basics that you'll need.
Bushnell Trophy XLT 20-60x 65mm Waterproof Spotting Scope
Bushnell makes some solid pieces of equipment, and they're all reasonably priced. This particular spotting scope goes up to 60x magnification without any loss of quality. The optics is similar to the HD optics offered in higher priced models, making this a formidable rival to luxury spotting scopes.
This is easily the kind of scope a hunter would be proud to own. It does more than just get the job done – it gets the job done perfectly.
Pros
The casing is not only armored for durability, it's also 100% waterproofed. This case will hold up for a long time, and it's easy to maintain.
Comes with both a soft and a hard carrying case to house the hunting spotting scope and all of its accessories. If you're taking your scope from the campsite, carry it in the soft case. If you're putting it in the back of your truck for the long journey to the hunt camp, the hard sided case will keep it safe.
Optics are multicoated to improve clarity, capture light, and reduce glare. You can use this at sunrise without hurting your eyes.
Cons
Tripod is lacking in design. It's small, and struggles to work with such a heavy scope. You'll want to upgrade to a sturdier tripod designed to distribute the weight efficiently.
Verdict
This is the best spotting scope for long range shooting at an affordable price point. It's almost shocking how great this scope is for what it costs.
This doesn't have the specs of a cheap scope – it's built to outshine competitors that can sometimes cost four times as much. It delivers, and it will never let you down.
Barska Blackhawk Spotter with Hard Case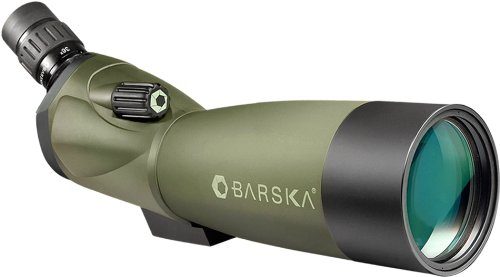 This spotting scope comes in a variety of lens sizes, but the 60 millimeter lens is the standard offering. 60 millimeters is perfect for a hunting spotting scope, especially if you're working within ranges of 500 yards or less.
This scope meets all the minimum requirements a hunter would expect from the best spotting scope for hunting. It's waterproof, fog proof, and ready to go.
Pros
Armored casing offers extra protection for when you need it the most. The casing won't crack on you with regular use, and all of the components are secure.
Comes with both a hard and soft carrying case. The soft carrying case is perfect for carrying it around in the woods, and the hard case serves as the perfect long term storage solution to protect your scope.
The coating on the optics is designed to work well in low light conditions. You can use this easily right before the sun rises or just as its setting.
Cons
The view is only good for mid ranges. If you need a long range scope that can push 500 yards with great clarity, this one may not be strong enough.
Verdict
This is the best compact scope for hunting, and it will work well for small campsites. You may not be able to count the points on a buck from 700 yards away, but you'll be able to see from enough of a distance to make the shot before the buck knows you're in the area.
ALPEN Waterproof Fogproof Spotting Scope
This is a versatile, fully adjustable scope with some solid features. On the surface, it may not seem like much, but it really delivers.
It's a standard tool that's easy enough for any hunter to use, and the scope is easily optimized for varying kinds of use. The magnification on these scopes goes as low as 40x max, all the way up to 80x max.
You won't have to purchase a long range model unless you actually need one, allowing you to save on the features you won't actually require.
Pros
This scope is fully waterproofed and fog proofed for the convenience of the user.
The eyepiece can be adjusted according to your requirements, so you can use the scope sitting or standing.
Coated optics sharpen the image and reduce glare.
Cons
Since focus adjustment is so customizable, it's a little slow. You'll have to take your time to set the image right.
Verdict
If you're having a hard time finding a scope that you can customize the way you'd prefer it, that hard time ends now. This scope comes in so many different lens diameters and focal lengths that everyone will be able to find one that will work perfectly for their next hunt.
Which Is The Best Hunting Spotting Scope For You?
The best spotting scope for hunting truly depends on the hunter. There's no one right way to hunt. Think about the kinds of hunting trips you take most frequently and what you need to depend on your scope to do.
The right variety exists for you, and your hunts will become drastically easier once you find it.