TOP5 Best Spotting Scopes for the Money and Reviews
If you're trying to find the best spotting scope for the money, you want to make sure you aren't wasting your cash on a scope that's just going to break in a few weeks.
It's possible to find a great spotting scope at a bargain price, as long as you know what you're looking for. Ideally, you'll find the right compromise between quality and price.
Our Top 5 Spotting Scopes for the Money
| Picture | Best Spotting Scopes for the Money | spotting scope review |
| --- | --- | --- |
| | Emarth 20-60x60AE Waterproof Angled Spotting Scope | Our Review |
| | Gosky 20-60X 80 Porro Prism Spotting Scope | Our Review |
|   | BARSKA 15-40×50 Colorado Spotting Scope | Our Review |
|   | Tasco World Class 20-60×60 Zoom Spotting Scope | Our Review |
|   | Fangfei® 35X50 Monocular Telescope/Spotting Scope | Our Review |
How to Find the Best Spotting Scope for the Money
It isn't as simple as setting a budget and buying the first spotting scope you find that fits within that budget. Since spotting scopes aren't something that you would buy as often as bread or shaving cream, you're looking for a product that's going to be worth the amount you've paid for long term use.
A great spotting scope will last you several years, if not forever. It's not necessarily about being cheap spotting scope – it's about finding great value for money.
Consider What You Need the Scope For
When you find a great scope at the right price, it won't matter unless the scope is designed to fit your needs. Scopes for bird watching and scopes for hunting have very different quality requirements. You wouldn't need a reinforced scope designed to stand up to shotgun kickback if all you're going to do is watch birds.
Likewise, you wouldn't want a flimsy plastic bird watching or landscape viewing scope close to a place where you'll be shooting a gun. Finding the right kind of scope matters the most.
Think about How Often You'll Use the Scope
If you only need the scope for occasional weekend trips, you don't need something that's overwhelmingly durable. Something you only intend to use once a month will hold up for years as long as you're storing it safely and maintaining it properly.
If you're looking for the best budget spotting scope that you can use every day, you need something that can hold up to that kind of wear and tear.
Even light use on a regular basis can take a toll on your spotting scope. Durability is important for even simple scopes that you intend to use frequently.
Don't Set Your Budget Too Low
It is perfectly fine to want a cheap spotting scope – just don't go so low with the price that you wind up with a scope that's practically unusual. You might have to spend more than you had intended to spend in order to get a scope that will prove to be worth more than what you paid for it.
If you're looking for the best spotting scope under 500 dollars, you'd be pleased to know that you can find an incredible spotting scope for less than half that price. It's all a matter of being able to justify the price.
Spending as little money as possible on a spotting scope doesn't always mean you're getting a good deal – especially not if you're going to have to keep buying new ones when they break.
A $25 spotting scope may work great for two days, but if you break it and have to replace it soon after buying it, you might as well have purchased a $50 spotting scope to start with. It's worth spending a little more to find a spotting scope that will last you a long time.
Reviews of the TOP 5 Best Spotting Scopes for the Money
So what is the best spotting scope for the money?
Browsing the reviews can help you find the best budget spotting scope for you. These are a variety of spotting scopes for a variety of purposes, and some of them actually have more than one function. Check out our spotting scope reviews below.
Emarth 20-60x60AE Waterproof Angled Spotting Scope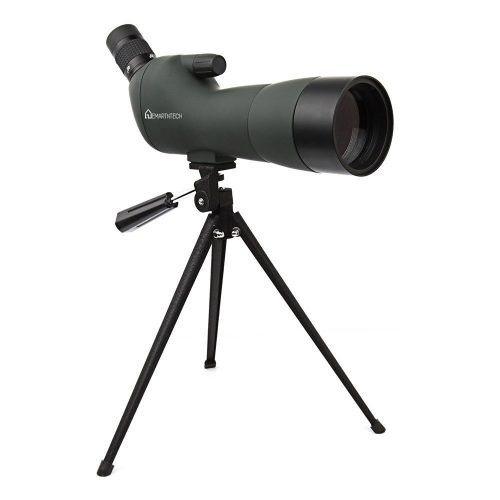 This is a spotting scope that will work well for just about anything, but it's particularly helpful for hunting and target practice. The magnification runs 20x to 60x, giving you an excellent range of view.
It is waterproof and fog proof, so you'll be able to use it in any weather conditions without having to stop and wipe it down. Army green color is perfect for a low key presence in the woods when you're trying to remain undetected.
Pros
Works up to 500 yards without reduction in image quality. Optimal range comes in at about 200 yards, making it perfect for doubling or even tripling the range you could usually see without a scope.
Comes with a tripod, carrying case, and accessory kit. This makes the tripod perfectly portable, and you won't need to purchase any additional equipment before you take this out and use it.
Angled scope is perfect to use from a laying or leaning position.
Cons
This isn't a long range scope – don't expect it to work as well as distances of 750 or more yards.
Verdict
This is the best low priced spotting scope for the average outdoorsman. You can do everything with it. It's designed like a more expensive spotting scope, but the price comes much lower than competitive luxury models.
If you want the features of an expensive scope without breaking the bank, you'll find that this gets the job done for a price you feel good about.
Gosky 20-60X 80 Porro Prism Spotting Scope
Spotting scopes designed to be used for photography can often be outrageously expensive, but for people who use their spotting scopes for bird watching or observing wildlife, photographic capability is a necessity.
This is an outdoor spotting scope that comes with a versatile, adjustable smartphone attachment right near the eyepiece. You'll be able to photograph anything you want from a distance. You'll never again have to worry about scaring birds or small mammals away.
Pros
Much less expensive than the average spotting scope for photography, and you don't need to buy any special attachments. It comes ready to use right out of the box.
80 millimeter lens features the perfect level of clarity for great smartphone pictures. They won't come out blurry, distorted, or grainy.
Comes with a complete travel pack, including a carrying case and lens care accessories.
Cons
Though the scope is waterproof, it may still occasionally fog up. Carry your lens cloth with you in case you need it. Your photos will come out clearer.
Verdict
This is the best budget spotting scope for photographers. These are difficult to come by, and you definitely won't find one better than this for such a reasonable price.
Rather than purchasing a luxury spotting scope that offers the clarity you'll need and purchasing different camera mounting accessories, you're getting a bundled deal that leaves you with nothing extra to purchase.
You save money going this route, and the quality is far more than acceptable.
BARSKA 15-40x50 Colorado Spotting Scope Review
This isn't a fancy spotting scope by any means, but it may be exactly what you need. If part of the reason you're looking for the best spotting scope for the money is that you don't need a lot of the complicated features that come with expensive spotting scopes, this is probably the one you want.
It's simple, and it works perfectly for target practice or a small hunting camp.
Pros
The minimalistic 50 millimeter lens will offer a clear view.
Lens is coated in a rubber casing designed to absorb shock, so it can safely be used next to a gun without fear of damaging the shell.
Optics are coated so bright sunlight won't blind you while you're looking through the eyepiece.
Cons
Scope is only designed to be used at a maximum range of 150 yards.
Verdict
This is the perfect spotting scope for people who deal with targets that aren't especially far away. Spotting scopes with higher ranges cost more money, and there's no reason to spend more on a scope that offers a longer range if you don't need it.
If 150 yards is enough of a range for you, this is the ideal budget spotting scope to help you get the job done without emptying your wallet.
Tasco World Class 20-60x60 Zoom Spotting Scope Review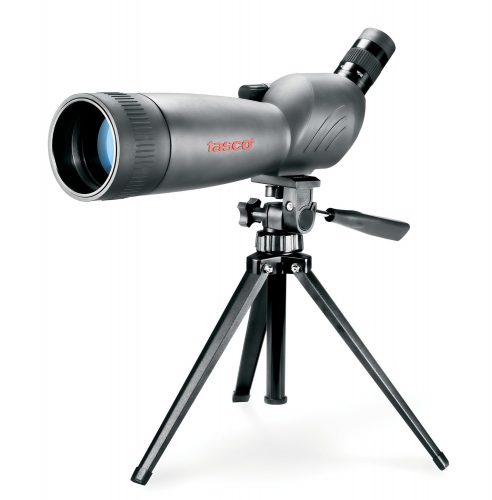 This tripod features HD quality optics, as well as fog proof and waterproof hardware. It comes with a tripod and a soft carrying case that make it easy to travel with.
It features a 60x zoom magnification that offers perfect clarity on things like paper targets for up to 100 yards without loss of image quality.
Pros
This is designed similarly to more expensive scopes, though it doesn't offer a lot of the extra gadgets and higher zoom that they offer. If you're not looking for something fancy and you just want great optics on a sturdy scope, this is perfect for you.
Since this scope is fog proof and waterproof, you can use it in any weather conditions. Morning dew isn't going to ruin your image, and you won't have to stop what you're doing to fix your cloudy lens.
Tripod can also be mounted on your car if you need to observe your target from a higher vantage point.
Cons
View becomes significantly less clear when you've pushed 250 yards.
Verdict
The biggest selling point for this budget spotting scope is undoubtedly the car mount. Being able to view your subjects from above ground is not only safer, it's also a little more comfortable.
Spotting scopes with mounts similar to this will generally cost a lot of money. This is an incredible deal for everything you're getting. If you don't think you'll need to push 250 yards, this is a great spotting scope for you.
Fangfei® 35X50 Monocular Telescope/Spotting Scope
This is a handheld spotting scope that isn't designed to be used with a mount. Some people prefer the convenience of a handheld spotting scope because of its free range of motion.
These are better for observing moving subjects than they are for fixed spot observing, and that's one of the biggest advantages of this scope.
If you like to watch wildlife or track your targets before picking a place to set up, this scope is excellent.
Pros
Allows you to magnify your view up to 35x. Most handheld spotting scopes don't go past 20x, so you're getting an excellent range in the palm of your hand.
Designed with a highly ergonomic grip. This will be comfortable to hold for long periods of time, and the texture prevents it from sliding out of your hand.
This is an all purpose spotting scope. If you have bad seats at a football game or if you're on the back lawn at a large music festival, it's small enough to bring with you and good enough to give you a clear view of what's going on.
Cons
Not designed to be used with a mount, so it can't be converted to a standalone spotting scope.
Verdict
This is a great casual spotting scope. When you don't need something heavy duty and you're perfectly content carrying your scope around in your hand, there's no reason to spend more for features that won't affect the way you use your spotting scope.
This is great for the outdoorsman who just wants a closer view of nature, and even for the hunter who is simply looking for the best place to set up for the day.
Which Scope is Right for You?
The best spotting scope for the money is a scope you'll feel good about buying. Think about how often you'll use it and what that price equates to over time.
You might find that it's like spending 5 cents every time you use it, and that's the very definition of an excellent value. Value is something that holds up over time, and you don't have to spend a fortune to find that kind of value. Choose only the best spotting scopes.