Meade Instruments ETX 125 Review
If you are a Meade Instruments fan, the ETX 125 will become one of your favorite telescopes. Why? Well, the Meade Instruments ETX 125 has an ideal balance between cost and features. For the beginner, the price point is probably within budget, yet there are still plenty of features to excite and maintain the interest of more seasoned astronomy amateurs.
We will discuss the features and benefits in this Meade Instruments ETX 125 review and point out why the telescope occupies the middle ground of cost and features.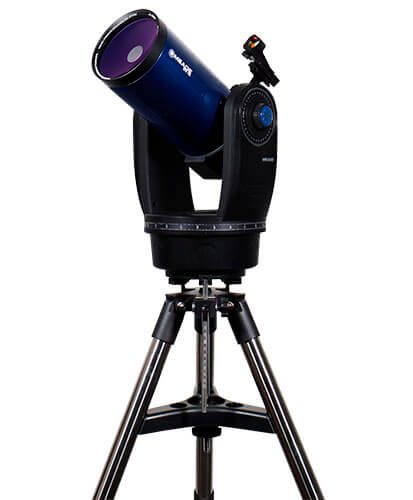 Main Features of the Meade ETX 125
Aperture & Focal Length: The telescope comes with a large aperture of 127mm (5 inches) and a 1900mm (f/15) focal length. The ETX125 is perfect for viewing the Moon, Planets, and binary star observations. The Meade is a slow scope with high-quality optics.
Maksutov-Cassegrain optical design: Viewed star images are accurate and detailed with excellent contrast; the optics provide a perfect platform for planetary observations and excellent deep-space viewing.
Ultra-High Transmission Coatings (UHTC): Optics are a crucial part of any telescope, and the last thing you need is any aberration in your images. Meade coats the optics with their patented substance to allow high levels of light transmission, offering bright and high contrast images.
GoTo system with AudioStar: Meade's EXT125 is fully motorized and has available more than 30,000-star objects in the database, making the job of finding and viewing deep-space objects so much easier. The telescope comes equipped with a Dual-Fork mount motorized by DC servo motors.
Meade ETX 125 Optical Tube Performance
Originally Meade manufactured all ETX telescopes in their factory in the US, but they moved production to Mexico to reduce costs.
The newer version of the ETX 125 is made in China by Jinghua Optical Co., a well-known Chinese telescope manufacturer.
The ETX 125 with a long focal ratio of f/15 is primarily for viewing the Moon and planets; however, there is definitely enough aperture to view deep-space objects; the telescope optics are of excellent quality. 
If you want to take images using the scope's built-in flip mirror diagonal, you will need a camera adapter on the back of the scope. However, when you attach a camera, don't expect to enable the telescope's full altitude because your camera wil come into contact with the fork; reaching zenith/pole is impossible. Another thing you cannot do is attach a DSLR camera for night-sky viewing; there isn't enough clearance, but if you're doing any terrestrial photography, you will be fine.
In fairness, there's no reason why you cannot use a DSLR camera on the regular eyepiece. But, frankly, what's the point of the flip mirror?
Meade ETX 125 For Astrophotography
So how does this affect using the ETX for astrophotography if the flip mirror is difficult to use?
The ETX features an EQ Tilt Plate, when taken at surface value, makes the telescope suitable for astrophotography.
Having a focal ratio of f/15 makes this quite a slow telescope, so you should be able to take some excellent, bright shots of the Moon, some Planets, and, if the sky is exceptionally clear several stars.
The purpose of the EQ Tilt Plate is to turn the alt-az mount into an equatorial mount, which of course, will help your astrophotography efforts. While Meade themselves don't make astrophotography one of the telescope's selling points, nevertheless, the ETX has astrophotography capabilities.
One suggestion you might try is to take the telescope to the highest point, preferably high hills or mountains,  close to where you live, and try to test the Meade's astrophotography abilities on very clear nights.
Analyzing The Meade ETX 125 Optics, Computer and the Mount
Let's look in more detail at the vital components of the Meade ETX 125:
Meade ETX 125 Optics
If you're looking at this telescope as a beginner in astronomy and this is your first telescope, the optics are pretty decent and fit the telescope's price range well. However, experienced amateurs might view this telescope more as a secondary instrument than their primary telescope.
Meade has included two Super Plossl eyepieces in the purchase; 9mm and 26mm. People commonly hold the view the difference between Super and normal Plossls are twofold. They have an additional lens element that helps with issues such as chromatic aberration and blurred images.
Another reason is the optics have a better coating; in fact, the plossls on this telescope are multi-coated UHTC (Ultra-High Transmission Coatings)lenses.
The optical design of this telescope is Maksutov-Cassegrain, and with a 1900mm focal length and 127mm (5 inches) aperture, this gives a slow focal ratio of f/15. 
A slow focal ratio like this means the field of view will be narrow, but combining that with Super Plossls reduces chromatic aberration. If you want to see far-away galaxies and stars, you will use a short focal length eyepiece to increase your field of view and magnification.
Meade ETX 125 Computer
The ETX 125 comes with a hand controller for motorized tracking and slewing as standard. The GoTo capabilities utilize the Audiostar controller, which incorporates over 30,000 viewing objects. 
The accuracy of the Audiostar controller is reasonably good. Audiostar can put the target star in the eyepiece about 90% of the time, which is pretty good, especially if you're making long slews.
Using the controller, you'll soon master aligning the telescope, and with the aid of the included red dot finder, you can center the star you want to use for alignment.
When you have accomplished alignment, you'll be able to track objects with the controller while the electric motor does all the work. If you prefer, you can let the telescope do the tracking for you.
We mentioned the AudioStar has more than 30,000 objects for viewing; however, there are also four hours of educational audio commentary that will give some in-depth knowledge of the objects you're viewing.
Meade ETX 125 Mount
The ETX 125 comes with an alt-azimuth fork mount. The fork arms make the whole thing quite broad, so you need a large case if you're going to take the telescope on trips.
The mount has a relatively quiet operation, thanks to its actual metal gears. The tripod also incorporates a tilt plate, as we mentioned earlier. Basically, this is a type of equatorial wedge for equatorial tracking and polar alignment. Equatorial tracking wil help your planetary and lunar imaging by getting rid of any field rotation.
The tripod for the ETX 125 is robust tubular steel and offers an excellent stable platform for your telescope. 
Be warned the eight AA batteries run out of power rapidly. If you don't want the telescope to shut down, not to mention the expense of so many batteries, you should opt for a portable DC power supply.
Compactness Of The Meade ETX 125
One of the main features of the Maksutov-Cassegrain telescopes is their compactness. Utilizing mirrors and lenses means increasing the focal length and, at the same time, restricting the size of the tube. The result is a longer focal length but shorter tube, making the whole thing considerably less unwieldy and easier to transport. Even including all the accessories and tripod, the telescope weighs less than twenty-six pounds.
Meade ETX 125 Ease Of Use
There's a reason why amateur astronomers choose computerized telescopes. Once everything is aligned correctly, the telescope does all the work, saving you time and frustration. However, for beginners, an automated system may seem daunting at first.
Alignment is the crucial factor; however, the red finder and AudioStar controller will do most of the heavy lifting here.
The tripod is straightforward; just ensure you stand it on perfectly level ground; it's also height adjustable.
Accessories Included With The Meade ETX 125
An alt-azimuth fork style mount with an included EQ tilt plate
2x Super Plossl eyepieces 9mm and 26mm
AudioStar computerized controller
Height-adjustable steel tripod
Red dot viewfinder
Carry case
Final Thoughts
The Meade ETX 125 Observer telescope doesn't come across as a bad telescope with any flaws that make it a wrong purchase. It offers top-quality optics, is highly compact, and is lightweight enough to take with you on trips and even flights. There's not a lot of ongoing maintenance necessary with this telescope, either.
The Meade ETX 125 is a solid, computerized telescope for an average price for beginners just getting started on their astronomy journey.
 The automated controller will make life so much easier for beginners in astronomy once they have alignment sorted.
The telescope comes with a very decent selection of accessories, although the red dot finder isn't that great, but because you'll only use it for alignment, it will serve its purpose.
If you're into astrophotography, it's a decent choice providing you are only looking at the solar system or terrestrial photography.
Depending on your available budget, the Meade Instruments ETX 125 telescope is an excellent choice for beginners. Undoubtedly it's an improvement on most telescopes offered to beginners, and with easy tracking, superior optics, and magnification, you really can't go far wrong.
Meade Instruments are a top telescope brand with an excellent reputation.