Best Digital Microscope
Digital microscopes perform precisely the same job as optical microscopes with distinct advantages, but what are the best digital microscopes? 
If you know about optical microscopes or used one before you understand, you magnify tiny specimens via the eyepiece and objective. Because of technical advances, there's a relatively new kid on the block, and that's a digital microscope.
What's A Digital Microscope?
Digital microscopes use digital cameras in place of the eyepiece on optical microscopes. Digital Microscopes connect to a computer; you see the results on a computer monitor.  You can record the results at the same time you view them.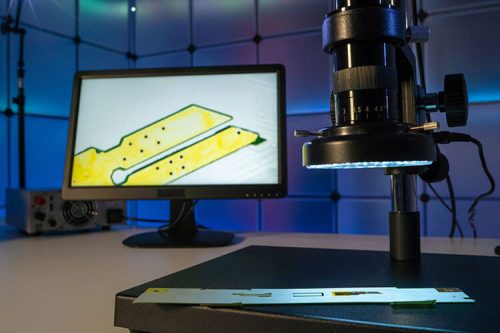 How Does A Digital Microscope Work?
Digital microscopes work by using a digital camera and optics to capture images displayed directly onto a computer monitor. These days the range of digital microscopes is pretty astonishing, from basic handheld versions that cost a few dollars to highly complex microscopes using advanced systems for multi-measurement and observation functions, costing hundreds even thousands of dollars.
Some of these microscopes use specifically designed computer software that enables users to perform a whole host of tasks, such as recording and editing video footage, adjusting images on the fly, analyzing 3D samples, taking measurements, etc.
How To Find The Best Digital Microscope
All this information is excellent, but what if you're new to microscopy's exciting world and looking for the best digital microscope for the money. How and where do you start to look for the best microscope for your particular needs and budget?
There are some essential questions you're going to ask. For example, what do you want the microscope for whos' going to use it, are they experienced, do they know microscopes, and what's their age?
As I mentioned, digital microscopes vary tremendously in price, from a few dollars to hundreds or thousands of dollars. Do you know your budget? 
Other factors will influence price, such as build quality, do you need a more robust microscope for professional work, or something more along the lines of home education. In addition, another major factor is the magnification; it's the same as if you're buying a USB microscope (read our buying guide for best USB microscopes); the more magnification you have, the higher the levels of intricacy you'll see in your samples.
It's never easy when you're unfamiliar with a product you want to buy. So we have written this best digital microscope buying guide to give you all the help you'll need.
We've reviewed the best digital microscopes at different price levels, so I'm sure there's at least one, if not more, in this buying guide that you'll love and will fit your budget.
1.

TOMLOV 7″ LCD Digital Microscope

The TOMLOV 7″ LCD digital microscope is fun with plenty of applications whether you're a young learner, adult, or student.

The 7-inch FHD screen rotates, and combined with a 12-megapixel ultra-precise camera, your 1080P high-def images will look fantastic, not to mention the quality of your videos.

The screen rotates 90 degrees, and the design undoubtedly improves ergonomics reducing neck and eye strain. 

The microscope provides 50x to 1200x magnification, giving you plenty of zoom capability if you like to get up real close to your specimen. Illumination is provided by 10 LED fill lights plus two extra goose lights.

If ever you want to look at your sample in a larger view, you can always hook up the microscope to your Mac or PC. One bonus with this model is no extra software needs downloading to support your PC or Mac.

If you want to save your shots for later or compile a register of your samples, there's a Micro SD card with storage for 32GB.

The microscope comes with a solid, robust metal frame of aluminum alloy for the base, stand, and holder.

Why We Like It: The TOMLOV 7-inch has a simple-to-use remote, and the controls are fluid and very easy to focus in on the sample.

Key Features:
Solid aluminum alloy construction
Included 32 GB micro SD card
Microscope compatible with both Mac and PC
50x to 1200x magnification
Ten LED lights plus Two Goose lights
Rotating 7-inch FHD screen
No software to download
2.

PalliPartners LCD Digital Microscope

The PalliPartners 7-inch LCD digital microscope has a built-in lithium battery that powers the microscope for up to five hours. A perfect solution if you want to work out in the field, to make the microscope even more convenient when outside, you can remove the bracket.

The microscope comes with a 7-inch high-definition LED screen, but you can hook the digital microscope to your PC through a USB cable if you want to get a larger view. Some software accompanies the microscope that will allow you to record high-def video; you can also increase the magnification on your PC from 50 to 1000 times. Save any image and video you record onto the 32GB micro SD card.

The microscope has eight adjustable LED lights to light any of your samples adequately; if you're in a particularly dark environment, there are two external fill lights.

Don't worry about spending long hours at the microscope and giving yourself neck or shoulder strain because the LCD screen has a tilt angle up to 270 degrees.

Why We Like It: The Pallipartners digital microscope offers a 270-degree tilt angle on the screen with a built-in rechargeable battery.

Key Features:
Eight-position LED fill lights
Rechargeable battery
PC-microscope connection
1-1200 times magnification
Adjustable screen angle to 270 degrees
Free 32GB micro SD card
3.

Elikliv 4.3″ LCD Digital Microscope

If you're on a tight budget or just getting into microscopy, the Elikliv 4.3″ LCD digital microscope could be an excellent choice. Bit don't let the budget price put you off; you still get some pretty decent features. The most noticeable feature affected is the screen size; the Elikliv has only a 4.3-inch LCD screen. However, you can still hook up your computer to the microscope if you want to get a larger view, and the smaller size screen does make it more compact if you're going to take the microscope into the field.

The screen is still high-def, and it does offer 50 to 1000x magnification, still pretty impressive. There is plenty of light with the eight adjustable LED lights, even in dark environments. Users can store images or videos they take on a 32GB micro SD card, but you'll have to buy your own card for this price.

If you have a PC with Windows 10, you can plug a USB directly into your computer and simply search for Camera.

With a lithium rechargeable battery, you can definitely take this microscope into the field with you. In addition, the battery is replaceable, so you can always carry a spare to prolong battery life for use outdoors. The microscope is also incredibly portable at less than a pound in weight.

Why We Like It: The Elikliv has all the main features you'll need but for a budget price.

Key Features:
4.3-inch LCD screen
50x to 1000x magnification
Lightweight
Suitable for use indoors or in the fieldwork
Takes images and video
Rechargeable and replaceable battery
Eight LED lights
Straightforward to use
4.

Celestron – LCD Digital Microscope II

The Celestron – LCD digital microscope II is a professional-level biological microscope at an affordable price for its quality.

The Celestron features a three-position nosepiece that rotates between 4x, 10x and 40x objective lenses. The microscope's camera sensor acts just like a 10x eyepiece lens that multiplies magnification to 40x, 100x, and 400x.  With dual illumination sources, adjustable upper and lower LEDs, you can quickly examine opaque and translucent samples. 

There's a 5MP built-in digital camera for capturing high-res images and 30fps SD video of your sample. The onboard screen isn't that large at 3.5 inches, but you can use the screen's measuring reticle to give you accurate specimen sizing.

Your purchase includes several accessories, including a 1GB micro SD card, five prepared slides, dust cover, carrying case, and an AC adapter.

Why We Like It: The Celestron digital microscope 11 is easy to use and intuitive, and viewing through a screen is much less tiring than viewing through eyepieces.

Key Features:
3.5-inch TFT LCD screen
5MP digital camera
Magnification 40x up to 1600x with digital zoom
Two-year manufacturers warranty
Several accessories included
Professional-level microscope
Dual illumination
5.

SKYBASIC LCD Digital Microscope 4.3-inch

The SKYBASIC LCD digital microscope is an ideal home or classroom-type microscope, and the built-in 2MP HD 1080P camera is brilliant for streaming and still recording.

Still images are captured directly to a 32GB TF card (included) while viewing the monitor. The kit consists of a USB cable to connect the microscope to your computer (PC or Mac); watch and capture video simultaneously on your computer screen, and the included PC software is capable of taking accurate measurements of your specimens.

For lighting your specimens, so they appear clear and bright are eight adjustable LED lights. The microscope features magnification levels of 50x and 1000x. A smoothly rotating head makes the microscope a pleasure to work with, while the fine and coarse focusing ability will bring your specimens into sharp focus.

Although classified as a classroom or home microscope, you can still take it out in the field with you. The microscope is powered by a 2600Ah rechargeable lithium battery allowing up to four hours of working time.

A built-in 4.3-inch LCD screen with a resolution of 1920*1080 gives a clear view of objects users are viewing.

Why We Like It: The SKYBASIC 4.3-inch microscope has a quality video screen with exceptionally clear pictures; an excellent starter microscope.

Key Features:
4.3-inch high-def screen
2600Ah rechargeable lithium battery
Fine and coarse focusing ability
50x and 1000x magnification levels
2MP HD 1080P Camera
Eight Adjustable LED Lights
Metal stand
TF card slot
6.

STPCTOU 7 Inch LCD Digital USB Microscope

The STPCTOU LCD digital microscope features a 7-inch screen that allows for a big enough viewing platform without any large screen display. The microscope is capable of recording in Ultra High Definition (2880*2160) 24fps. In addition, the device also captures 60/30fps at full High Definition and still photos at 4032*3024 pixels. Save any images or videos you take to a 32GB micro SD card (not included).

Control every operation of the microscope via infrared remote control; for example, take images, record videos, use the zoom controls, brightness, sharpness, image rotation, and more all at your fingertips.

For the most comfortable user position, the display is angle-adjustable. The microscope's stand can adjust the difference between the subject and the camera, which solves the issues around high reflection when viewing samples.

Even though the screen size is suitable for most viewing, if you require a more prominent display, there's an HDMI output so you can hook up the microscope to a larger monitor. The microscope is equipped with a high-quality lens and a sensitive CMOS sensor. Using the microscope, you'll appreciate the attached UV filter reducing light reflection from the eight built-in LED lights.

Why We Like It: The STPCTOU is an excellent microscope with a high-quality lens and CMOS sensor.

Key Features:
Infrared remote control
Angle adjustable display
Adjustable stand
270x zoom capability
High-quality lens & Sensitive CMOS sensor
7-inch display screen
Thirty-day money-back guarantee
Which Digital Microscope Is Best For You?
Before making any decision on a digital microscope, establish your priorities; what do you need your microscope to accomplish for you?
Don't think about the price at this stage. Find microscopes that guarantee to satisfy the reason why you need a microscope. Make a shortlist of the microscopes that fit those needs and offer you the best solutions.
Only then begin to rank them for price and choose the one that's affordable for you.
Now you will be purchasing the best microscope for your needs at a price you can afford.
Conclusion
The real genius of digital microscopes is not only can you capture images and record videos of your specimens, but you can share them with friends and family who would be fascinated to see microscopic samples.