Best Star Projector
Have you ever found yourself gazing at the night sky and feeling calm and relaxed? As a child, you might remember falling asleep under the star and planet stickers you placed on your bedroom ceiling; if you have children of your own, you might be considering doing the same for them.
Just imagine bringing the timeless beauty of galaxies, stars, and constellations directly into your home? Well, now you can; the best star projectors will do precisely that. How amazing would it be for your children to fall asleep under the wonders of the universe; you can also use this as the best night light ever.
Turn your child's bedroom or your living room if you prefer into your very own home planetarium.
The best star projectors will produce vivid, excellent clear pictures; what's more, these projectors are quick and straightforward to set up.
To help you find the best star projector, we have produced this guide, including the product reviews of the projectors we recommend.
So let's begin with the first one on our list.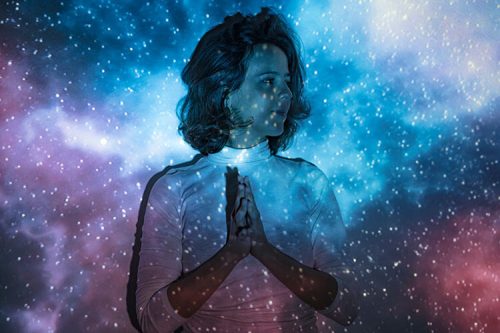 Our Top 4 Star Projectors
1.

Encalife Star Light Galaxy Projector For The Bedroom
Undoubtedly the Encalife Star Light Galaxy Projector is our number one pick of all the projectors reviewed on this list. We love this projector because of its integration with Google Assistant and Alexa.
Do you and your children enjoy bedtime storytelling together?. It can be a wonderful experience for children and parents. Because you can operate your projector by voice commands, it adds so much natural drama to your storytelling, and the projector includes a children's storybook with your purchase.
If you don't want to use voice commands for any reason, you can still control the projector with your phone app. The colors are exceptionally bright, sharp, and truly stunning.
The projections produced by the Encalife are simply excellent and will fit your bedroom or living depending on your choice of location. 
Many star projectors can be overly noisy, which really brings the enjoyment level down; however, you won't have your sleep disturbed by the Star Light projector because it runs perfectly quietly.
You might like to take note if you're a dog owner and want your fur family to share your bedroom, and that's some dogs are not too happy with the projections, so please be aware of that.
Many people that enjoy meditation use projections as a means of focussing their concentration levels.
Why We Like It: The Star Light Galaxy offers a colossal collection of nebula cloud backgrounds with 16.7 million colors.
Key Features – Star Light Galaxy Projector:
Alexa and Google Assistant activated
Vast Nebula cloud backgrounds
Adjustable brightness for stars and clouds
Schedule on/off feature
Shut down timer
Moving nebula cloud and stars
16.7 million colors
2.

BlissLights Sky Lite 2
The Blisslights Sky Lite 2.0 is not a large star projector at 9.25 x 8.14 x 3 inches and weighing only 1.74lbs, but the machine can project over 80 square meters. The Sky Lite will also connect to their BlissLights smartphone app and incorporates an automatic switch-off for up to six hours.
While the Sky Lite 2.0 projects stars against a transforming RGB nebula cloud, it's not accurate as far as science goes. Still, it does provide a wonderful mood ambiance, and the precision glass optics and direct diode laser produce an unmatched visual experience for your bedroom or living space.
One tip you might like to try is placing a soft light near a wall and center the projector on the light; you'll see it produces other color variations other than the green stars.
The manufacturers might have given more options for the timer rather than just the auto shut off, and there could be more variable rotation speeds. 
Operation is straightforward; just on and off button, you can choose between a moving nebula or nebula and stars moving together. You won't find many colors or pattern combinations; however, what it does produce, it does exceptionally well.
The Sky Lite 2.0 is capable of projecting at three different angles, including directly towards the ceiling. The included USB cable enables you to connect the projector to a laptop or battery for portability for a camping or RV trip.
The previously mentioned smartphone app connects via Bluetooth and can control the built-in effects.
Why We Like It: The SkyLite 2.0 produces a vibrant multicolor cloud effect and can be paired with a smartphone app creating your own custom light show.
Key Features – BlissLights Sky Lite 2.0:
Custom light show
Smartphone app
Quiet operation
Dimensions – 9.25 x 8.14 x 3 inches
Weight 1.74lbs
Precision glass optics
Projects over 80 square meters
3.

Smithsonian Optics Room Planetarium and Dual Projector Science Kit
Because of an adjustable desktop stand, you can literally aim the Smithsonian Optics Room Planetarium and Dual Projector into any part of a room and see the night sky across ceilings or walls.
This projector is predominantly aimed at children and not adults. Still, for any child that has a passing interest in the night sky, the Planetarium Projector will provide them with an incredible and awe-inspiring experience.
Your child can experience a rotating Star pattern of the Northern Sky along with 24 HD Space images. The 24 images are Planets, Nebulae, Moons, Space Craft, an Astronaut, and different Celestial bodies. 
The planets include still images of the moon, Earth, sun, and asteroids; the spacecraft they will see is the International Space Station and the Space Shuttle with a space-walking astronaut; all brilliant images to fire a child's imagination.
The HD images can make over 50 different image combinations.
Sadly, the planetarium model is quite basic, and there are only the northern hemisphere stars, and there are no constellation guidelines, so it's far more for enjoyment than education. But horses for courses, and while the education element isn't there for a young child's imagination, the projector does an excellent job.
The projector's power comes from four AA batteries and has a built-in fifteen-minute auto-shut-off, which should give most children ample time to drop off to sleep.
The projector is typically suited to younger children that love the idea of the stars and bright HD images projected onto their bedroom ceiling but are not yet intent on learning the science.
Why We Like It: The Smithsonian provides a dual-function Planetarium Projector that will bring the night sky and high-quality images into your child's bedroom.
Key Features – Smithsonian Optics Room Planetarium:
Dimensions 10 x 7 x 10 inches
Weighs 1.85 pounds
It takes 4 x AA batteries
Includes 24 high-quality HD images
Rotating Star Pattern of the Northern Sky
Straightforward to use
15-minute auto-shut-off
4.

Sega Toys Homestar Flux Home Planetarium Star Projector
The Sega Homestar Flux is definitely in the running for being one of the best home Planetarium Star Projectors available, in our opinion, at least.
If you prefer your home planetarium to be scientifically accurate and the planets and stars particularly enthrall you, you'll undoubtedly be pleased with your purchase.
The Sega Homestar comes with discs of both the northern and southern hemispheres, and for those who take the science seriously, there's a double-sided poster that shows the sky map in tremendous detail.
To prevent you from becoming bored with the supplied discs, you're able to buy additional discs to add to your collection. Another exciting feature is the shooting star that you can activate.
The projector's multilevel glass lenses can produce accurate and scintillating atmospheric projections that are brilliantly bright. Once you get the focussing correct, you're able to view 60,000 stars-which is far too many to attempt to count; you'll have to take the manufacturer's word for so many.
We mentioned the projector is bright, and we meant it because you definitely don't need a dark room to see how brilliant the images are.
The automatic switch-off allows you to choose between 15, 30, or 60 minutes.
Sega has its own official online shop where you can buy more than 30 extra discs, such as the simulation of the aurora borealis and the aurora australis. There are also some super impressive discs showing NASA-based images of galaxies and nebulas. Some novelty discs are also available if you want to take a break from stars and galaxies, such as firework displays, night jellyfish displays, and hot-air balloons.
Why We Like It: The Sega Homestar Flux is a serious star projector with accurate scientific projections and with 5-watt warm light LED technology to view the projections.
Key Features – Sega Homestar Flux:
Dimensions: 9.13 x 7.76 x 7.6 inches
It weighs only 11 ounces
Incorporates 60,000 high definition stars
Quiet disc rotation
USB cable
Includes 2 discs (with optional 30 extra discs)
Advanced shooting star
Satin black finish
Conclusion
Needless to say, choosing the best star projector will not be easy because projectors typically have differing capabilities.
However, if you have a pretty good idea of the features you want, that will make a choice more straightforward. For example, is it for a child's bedroom to help them drop off to sleep, or is it for the adults in the house, and does it need to be scientifically accurate?
Whatever your reason for buying a star projector, we have you covered with the reviews of the best star projectors in the above guide.