Best Projector For Daylight Viewing
Do you hate closing the drapes at home every time you watch a movie during the day? If you're in a business meeting, your office environment might not have curtains or blinds. 
So choosing the best projector for daylight viewing is essential if you want to see the movie details clearly and want your business associates to know what you're talking about.
Televisions are typically the go-to means of movie entertainment in the home, but today's projectors are offering some stiff competition, especially with the unparalleled cost-to-screen size. Projectors can provide over 100-inch screens, and for what you'll pay, televisions can't compete.
In some settings turning down the light isn't an option, for example, if you're presenting a PowerPoint in the office or you've guests over for some outdoor entertainment. Choosing the best projector can be tricky; you need high light output and an excellent contrast ratio.
High light output typically means at least 2,500 or 3,000 lumens and an excellent contrast ratio of at least 6000:1, but 10000: would be better, and the projector needs to be at least HD at 1920×1080 or 4K.
We'll review projectors that offer all those features and more in this best projector for daylight viewing, so let's get started.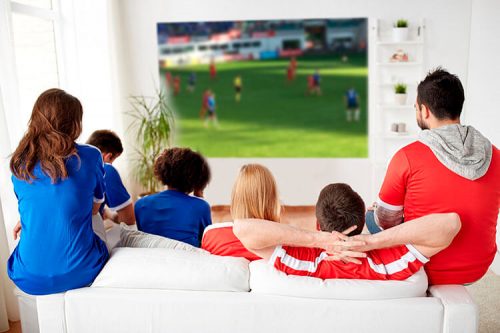 Top 5 Projectors For Daylight Viewing
1.

BenQ TK850i True 4K HDR-PRO Smart Home Entertainment Projector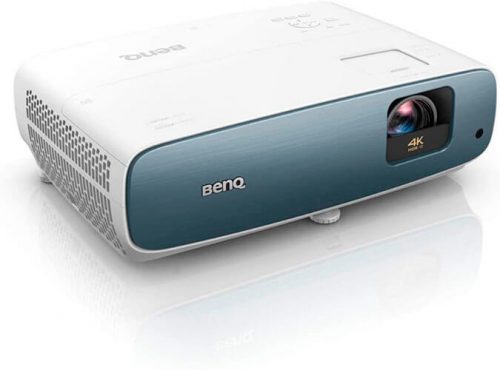 If daylight projecting is the option you're seeking, the BenQ TK850i with 98% Rec.709 coverage has brilliant color accuracy. Add in the 3000 ANSI lumens for an overall extra-bright image, and you'll have what you need. This projector produces vivid colors in any ambient lighting.
The TK850i is a 4K UHD (ultra high definition) projector, and the images you'll view will look exceptionally sharp with 8.3 million pixels for a 3840 x 2160 resolution.
You and your family will enjoy wireless streaming from your Android or iOS device, Mac or Windows computer, or Chromebook to your BenQ projector.
Incorporating lens shift with vertical keystone, Dynamic Iris with a 30000:1 contrast ratio produces excellent black levels and a sharp detailed-full image.
The BenQ TK850i makes use of an RGBW color wheel and 3000 ANSI lumens to produce an exceptionally bright image perfect for daylight viewing in either your home or office.
If you're looking for a gaming projector, specifically, the TK850i is probably not the projector you'll want to buy; sadly, the input lag is just too high at 70ms, keen gamers look for 20ms or less.
The projector doesn't support Netflix natively; you'll require your laptop Google Chrome browser or connect via HDMI cable.
Why We Like It: The BenQ TK850i is one of the best projectors for daylight viewing.
Key Features – BenQ TK850i:
98% rec.709 color coverage
3000 ANSI lumens
Excellent connectivity
3D support
Dynamic Iris 30000:1 contrast ratio
RGBW color wheel
Includes an Android TV dongle
1.13-1.47 throw ratio
Razor-sharp picture and motion clarity
Three years parts and labor warranty
2.

Epson Home Cinema 3800 4K PRO-UHD Projector
Epson Home Cinema 3800 incorporates a distinctly new 4K home theater environment using technology to enhance resolution, image processing, and color.
You will not see any rainbow effect that can dog DLP projectors because the advanced 3LCD technology displays 100% RGB color signal.
Epson utilizes pixel-shifting technology that controls three different LCD chips that process millions of pixels. Even allowing for the 2K image, the projector takes care of 4K videos without a hitch, and HDR10 along with HLG high dynamic HDR content looks brilliant.
You'll be more than happy with the 3000 ANSI lumens for bright room viewing, and built-in Bluetooth will send audio to your separate speaker set up. However, the projector doesn't come with streaming capabilities.
You can set up your new Epson literally anywhere because of its +/-24% horizontal lens shift, +/-60% vertical lens shift, and 1.62 x zoom.
The contrast ratio of this projector is a stunning 100000:1 producing exceptional black detail. There's also active 3D support for high-performance 3D glasses.
If you enjoy gaming when not otherwise engaged watching great movies, the low 20s input lag is no slouch.
Why We Like It: The Epson HC3800 is an excellent projector that maintains image quality in daylight without affecting brightness. 
Key Features – Epson HC3800 Pro-UHD Projector:
3000 ANSI lumens
3LCD technology
1000000:1 dynamic contrast
1.62 x zoom
20.6ms input lag
HDR10 & HLG HDR support
Plenty of available image adjustments
Excellent connectivity
3D support
+/-60% vertical lens shift, +/-24% horizontal lens shift
3.

Optoma UHD38 Bright, True 4K UHD Best Daylight Gaming Projector
Serious gaming using a projector demands the lowest input lag and the brightest daylight display you can find; the Optima UHD38 offers both.
The UHD38 is a brilliant bright room 4K best in class gaming projector, providing an especially low 4.2ms response at HD, an incredible 4000 lumens, and a 3840 x 2160 4K UHD resolution.
Switch the projector to enhanced gaming mode and experience a 240Hz refresh rate and 4.2ms at HD, and at 4K, the input lag will still be below 20ms. These figures ensure the Optoma UHD38 is by far the best gaming projector you will find anywhere for use with PCs or consoles.
The projector allows for straightforward setup; stand the projector on a table or fix it to your ceiling; it's so easy to get the perfect picture with 1.1 x zoom and +/- 40-degree keystone. Dynamic black technology ensures it will provide depth to your image and a high contrast ratio of 1,000,000:1. One drawback is when you toggle on the enhanced gaming mode, you forego any image adjustments, which is a real pity because it means you'll have to position the projector and be unable to use its keystone.
For gaming, the Optoma UHD 38 offers exceptionally low input lag and high refresh rate, and for movies, you'll have a crystal clear and sharp 4K ultra-HD resolution.
Why We Like It: We are particularly impressed with the seriously low input lag of only 4.2ms at 1080p and less than 20ms at 4K UHD.
Key Features – Optoma UHD38 Bright Room Projector:
4000 ANSI lumens
8-segment color wheel
1,000,000:1 contrast ratio
1.1 x zoom
4K UHD
+/-40-degree vertical/horizontal keystone
3D support
Low input lag rate
Excellent connectivity
4.

BenQ TK700STi Best Short-throw Home Projector For Gaming
If you're looking for the best home movies and gaming projector, but you only have a small room, look no further than the BenQ TK700STi.This short-throw projector is capable of throwing a 100″ image from only 6.5 feet. What's more, the image is just as good even with a reasonable amount of ambient lighting.
If you're into streaming on a giant screen, you have stacks of image adjustment settings with vertical and horizontal keystone; plus an Android TV streaming dongle.
High-quality gaming at 4K resolution still allows gaming at a 60Hz refresh rate and 16ms input lag. The black levels are superb, with a 10,000:1 contrast ratio.
If you're a competitive gamer, you'll need to drop down to 1080p for low-lag gaming at 4.16ms and a refresh rate of 240Hz. Unfortunately, the projector doesn't offer ultra-low lag gaming and a high refresh rate at 4K. 
The Android TV dongle provides smart streaming and works with Disney +, Hulu, Google Play Store with 5000 Android apps, movies, sports, music, and TV shows. Sadly Netflix isn't supported, but you can cast Netflix via your laptop Chrome browser or an HDMI cable. 
Why We Like It: The BenQ TK700STi is compatible with major consoles such as the Sony PS4, PS5, Nintendo Switch, Xbox Series X, and Google stadia.
Key Features – BenQ TK700STi – Best Short-throw Gaming Projector:
HDR10 & HLG HDR
3000 ANSI lumens
8-segment RGBWRGBW color wheel
Excellent connectivity
1.2 x zoom
3D capable
Vertical and Horizontal lens shift
Android TV dongle
10,000:1 contrast ratio
5.

Optoma GT1090HDR Short Throw Laser Home Theater Projector
With 4,200 lumens of brightness from its laser light source, the Optoma GT1090HDR is an excellent projector perfect for a bright room and daylight viewing. The laser light source offers 30,000 reliable and low maintenance lamp hours
The GT1090HDR can cast a whopping 120-inch image from only four feet four inches from its short-throw lens. It's like sitting in the front row of the movie theater. The GT1090 will accept a 4K signal; however, its output resolution is restricted to 1080p. Having said that, you'll not be disappointed with picture quality in the slightest; this is all down to the 300,000:1 contrast ratio.
The projector is not bad for the average gamer, and 16ms input lag at up to 120Hz refresh rate, but for hard-core gamers, they will need a different projector.
For what this projector is intended for, it's an excellent piece of equipment, such as the stable lamp source, high brightness, and short-throw 120-inch image from just over four feet. Unfortunately, the projector doesn't output in 4K. But most people won't miss that when they see just how crystal clear and sharp the images are.
The projector produces a massively bright image, and effortlessly watchable dark scenes make the GT1090HDR an impressive piece of kit for a small living room.
Why We Like It: The DuraCore laser light source means lamp and filter replacements are a thing of the past for up to 30,000 maintenance-free lamp hours.
Key Features – Optoma GT1090HDR:
30,000 light source hours
1080p image
4,200 ANSI lumens
Auto keystone
16ms input lag
300,000:1 contrast ratio
DuraCore laser light source
Short-throw 120-inch image from 4.4 feet
3D-ready
Conclusion
If you enjoy watching movies, streaming, or gaming using a projector, you know the terrible effect ambient lighting can have on your viewing pleasure.
This list of best projectors for daylight viewing will help you choose the right projector whether you want to view your media inside or outside your home, whatever the lighting situation.