Apertura AD8
The Apertura Dobsonian AD8 is a top-rated Dobsonian telescope, and if you have the pleasure of using one, you'll understand the reasons for such a reputation. AD8 refers to the 8 inches of aperture along with superior quality optics.
The beautiful glossy black optical tube of the AD8 rides on a Dobsonian mount, which is quick and straightforward to use even for beginners.
Everything you need to start viewing the universe comes in the box when you purchase the Apertura AD8, such as a right-angle image correct 8×50 finder scope, laser collimator, and two eyepieces.
The Apertura AD8 Dob, with its 8″ of aperture, is more than enough to view Jupiter's moons, Mars, Saturn and to experience magnificent views of our moon. If you've ever wanted to study the polar ice caps of Mars, this is absolutely possible with the AD8. 
The Apertura AD8 telescope offers a considerable amount of value for the cost. If you are looking for quality, the AD8 is one of the best 8 inch Dobsonian telescopes, and you won't be disappointed; plus, you get one of the best warranty agreements available.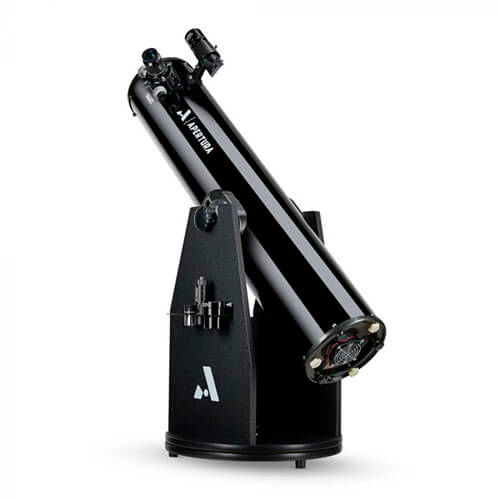 Who Is This 8″ Newtonian Reflector Telescope For?
The Aperture AD8 is suitable for the beginner, and even experienced astronomers will benefit from this telescope. Everything is excellent about this equipment, from design to build quality. 
Beginners will use this telescope for years before they get bored, and if you have some experience under your belt, then adding this straightforward Dobsonian doesn't take too much thought.
The AD8 is a multitalented telescope from the lovely field of view with the f/5.9 that's perfect for viewing deep-sky etc. but doesn't prevent viewing objects such as the moon and planets.
Who Shouldn't Buy This 8 Inch Dobsonian?
While the AD8 will fulfill most astronomer's needs, no telescope can be everything to everyone; sure enough, the Apertura 8-inch telescope will not suit some people.
Remember, the telescope comes on a Dobsonian mount, and undoubtedly this type of mount is perfect for "point & shoot" viewing. Still, there are limitations with this type of mount, and they certainly lack features when you compare them to others.
For example, if you want or need a motorized mount for astrophotography, you will not be happy with this Dobsonian. Needless to say, long exposure photography is a non-starter when you don't have motorized tracking capabilities.
What Are The Benefits Of The Apertura 8" Dobsonian Telescope?
Telescope Optical Performance
The Apertura AD8's optical performance is excellent, and it needs to be; without worthy optics, a telescope is next to useless. If you cannot clearly see what you're observing, there's little point. Utilizing the 8″ aperture and 1200mm focal length, you get a decent wide field of view and sharp detail and color.
The Apertura AD8's primary mirror is a parabolic design coated with silicon dioxide and aluminum coatings, delivering an outstanding 93% reflectively. Such an excellent reflective mirror coupled with the light-gathering capabilities of an 8″ aperture means exceptional views.
When you buy the Apertura AD8, you also get two eyepieces, as we mentioned. They are a 2″ 30mm wide-field SuperView eyepiece and a 9mm Super-Plossl. The SuperView eyepiece offers a 68-degree field of view with 40x magnification, while the Super-Plossl provides 133x magnification.
Apertura AD8 Mount Performance
Dobsonian mounts are not known for causing too many problems; they're a pretty simple design. 
Even allowing for their simplicity, Apertura has made sure they put plenty of thought into the design of their Dob mount. For example, to control the mount's movement, Apertura has chosen to use roller bearings; this allows a much smoother and controlled operation.
In addition to adding roller bearings, Apertura has also come up with a design to allow the tensioner to slide up or down the optical tube to balance more weighty accessories.
Apertura AD8 Additional Accessories
If you've bought telescopes previously, you'll have noticed that most of the included accessories are pretty much useless and don't add anything much to the telescope. However, that's not the case when you buy the Apertura AD8; several accessories are of excellent quality and will enhance the use of the AD8.
Here's a quick list of what you can expect when you buy the Apertura AD8:
Primary Mirror Cooling Fan: Designed to get your telescope to ambient temperature quickly (battery-operated).
2″ Crayford-style Micro Focuser: Excellent value 10:1 dual-speed model you can use with any eyepiece.
1.25″ Adapter for the Focuser: Flexibility to use 2″ and 1.25″ eyepieces.
8×50 RA Correct Image Finder: Big improvement on the typical red-dot finder.
35mm extension tube: Provides additional focal travel.
1.25″ Moon Filter: Reduces moon glare to improve viewing.
Laser Collimator: Necessary tool for collimating your telescope.
Eyepiece Tray: To keep your eyepieces organized and secure.
Set Up And Use The Apertura AD8
Other than their value for money, one reason why beginners and even experienced astronomers choose Dobs is that they are quick and straightforward to set up; you can be viewing within minutes with a telescope as good as the AD8.
Strictly speaking, just attach the optical tube to the base, fix an eyepiece in the focuser, find the object you want to view by using the finderscope, and you're off to the races.
Let's face it, though, while this is an excellent telescope and brilliant value for money, it's no lightweight. The rocker-box and optical tube weigh about 25-pounds each; should you try to carry them together, you're talking over 50-pounds. While that's not a deal-breaker for most people, the size and weight could cause some people second thoughts, which would be a shame.
It would help if you collimated your scope to check your alignment, and once you've done it a few times, you'll soon become a master, especially with the included laser collimator.
Astrophotography With The Dobsonian Apertura AD8
Sadly, if you're keen on astrophotography, the Apertura AD8 is not the telescope to choose. The Dob mount is an altazimuth, and unless you have motorized tracking capabilities, astrophotography is a no-go.
Conclusion
If you buy the Apertura AD8, you'll undoubtedly be super impressed with your purchase, especially with what you get for the money.
Light gathering capabilities and superior-quality optics ensure you will have little difficulty viewing objects in magnificent color and essential clarity.