Best Projectors For Under 500
Wouldn't it be great if you could find the best projector at an affordable price? How about the best projector for under $500 that will precisely offer what you need?
Whatever the reason you're searching, be it for your home, place of business, classroom, or some event, we have something that should please just about everyone.
In this best projector for under 500 buying guide, we'll cover all the essential features, such as brightness levels, available connection types, bulb life, screen size, and throw distance. Check out the reviews for the best projector's buying guide.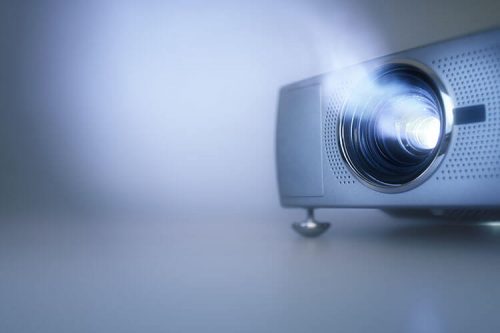 Top 5 Projectors Under $500
1.

ViewSonic PA503W Projector for Home and Office
The ViewSonic PA503W is undoubtedly one of the best projectors for home or business use for under $500; you'd have to pay a lot more money to get anything better than the PAW503W.
With a throw range of 3.9 to 43 feet, you can operate this projector in a cramped office environment or your living room.  And with a range of 43 feet, why not use it as an outdoor projector and invite the neighbors around for a movie night.
With 3600 lumens and a contrast ratio of up to 22000:1, it's bright enough for any picture and a decent 15000 hours of bulb life before you'll need to replace them. Some bulbs last longer but combined with the amount of light thrown out, it's still a decent bulb.
There's also a decent array of connectors available, and the projector supports HDMI, RCA, and VGA hookups. The ViewSonic PAW503W supports 1.1x optical zoom with a vertical lens (+/-40 degree). 
Why We Like It: The projector offers an excellent choice of connection options, so you'll find it straightforward to connect to any device you prefer.
Key Features – ViewSonic PAW503W:
3,600 lumens
15,000 hours bulb life
Excellent throw range
Great connectivity options
DLP technology
ViewSonic provides a 3-year warranty
Resolution: 1920 x 1080p Full HD( 1200X 800 ) WXGA
Screen Size: 30-300 inches
3D Compatible
2.

BenQ TH585 1080p Best Home Entertainment Projector
This BenQ projector is a full 1080p HD incorporating 3,500 ANSI lumen and a 10,000:1 contrast ratio. Even in a well-lit environment, you'll have no trouble viewing the screen.
Suppose you enjoy gaming when using a projector. In that case, you'll not be disappointed with the BenQ 16ms low input lag and microsecond DMD fast response, which ensures you'll always experience an ultra-smooth gaming experience.
Move your gaming to the big screen, and you'll not be disappointed; this short-throw projector creates 100″ images from only three feet away.
You are bound to be impressed with the brightness and contrast balance, which will add to your viewing pleasure.
One drawback is the built-in speaker; if you want to set the projector up within a home theater environment, you'll be a little disappointed.
Why We Like It: The BenQ TH585 offers dedicated viewing modes, including gaming mode. Perfect projector for home movies and gaming.
Key Features BenQ TH585:
Full HD 1080p
3,500 lumens of brightness
10W built-in speaker
15,000 hours of lamp life
Digital lens shift
Low input lag, 16ms low latency
Dedicated viewing modes
BenQ 3-year warranty
3.

Optoma HD146X High-Performance Projector for Movies & Gaming
If you love watching movies at home but must have cinematic picture quality welcome to the Optoma HD146X projector. The least we all expect from our projector is 1080p HD. If you enjoy color calibrating your home cinema, the Optoma doesn't disappoint with 1920×1080 resolution and an RYGCWB color wheel.
The Optoma incorporates the latest technology from Texas Instruments with a single-chip DLP DMD design producing crystal-clear image alignment alongside high-brightness levels for fantastic picture clarity.
Even if you prefer to view your home cinema with lights on the 3,600 lumens ensures the picture will still be bright and clear. The projector can project 120″ images from 13 to 14 feet away.
The Optima HD146X is a little pricier than some of the other projectors on our list; however, you get what you pay for with resolution, contrast ratio, and brightness. Optoma estimate you'll enjoy 4 hours of viewing time every day for over ten years from the projector lamp.
Why We Like It: The Optoma utilizes Dynamic Black technology to smooth lamp output and create a high contrast ratio (500,000:1); dark movie scenes are detailed, and bright scenes still appear clear.
Key Features – Optoma HD146X:
Full HD 1920×1080
1.1x optical zoom
15,000 hours lamp-life
Multiple connectivity ports
16ms input lag
DLP display
3,600 ANSI lumens
4.

ViewSonic-PX701HD Best For Gaming And Outdoor Movie Nights

Another excellent home and gaming projector from ViewSonic. The PX701HD is perfect if you like to super-size your movie presentations. This projector offers an immersive movie-theater-like experience in full HD on a screen up to 300 inches. However, the PX701HD is also one of the best gaming projectors for under $500.
You can also enjoy sports and Netflix streaming with a dongle, and the projector works seamlessly with Roku, Fire TV Stick, and Chromecast.
The lamp-life on the projector is a phenomenal 20,000 hours allowing five hours of viewing time per day for ten plus years.
The PX701HD is easy set-up 1.1x optical zoom and a vertical lens shift for up and down adjustments. With 16ms input latency, there's no image delay to kill your gaming enjoyment.
Why We Like It: The ViewSonic PX701HD designers have paid particular attention to the needs of gamers to enhance the gaming experience with no image delays and cinematic colors.
Key Features – ViewSonic PX701HD:
Extensive connectivity
Fantastic color accuracy
Perfect gaming
SuperColor technology
20,000 hours of lamp light
Brightness 3,500 ANSI lumens
Resolution 1920×1080
DLP display
Contrast 12,000:1
3D compatible
5.

BenQ MW560 WXGA Best For Business Projector
It's essential equipment for business owners, and the BenQ MW560 is one of the best projectors offering excellent brightness and contrast, plus a range of compatibility options crucial for business projectors.
You'll be able to fill an 80″ screen from only five feet away with this projector in true HD definition as good as any HD TV.
The BenQ incorporates the finest precision glass and lenses, and you won't be disappointed with the crystal-clear clarity; everyone in the room will be able to see and read all your presentation figures.
Experience fast image alignment and straightforward setup with ergonomic retractable foot and auto vertical keystone.
For those super crucial office presentations, you need brilliant image quality, and this is what you'll get with 4000 ANSI high lumen brightness and 20,000:1 contrast.
Why We Like It: The BenQ MW560 has a fantastic picture quality and is bright enough for the picture to be crystal clear in daylight.
Key Features – BenQ MW560:
Contrast ratio 20000:1
4000 ANSI lumens
Screen size from 100" to 300"
Up to 15,000 lamp hours
Several connectivity options
DLP display
3D compatible
Auto vertical keystone
Anti-dust sensor
Kensington Lock
Smart Eco mode
Things To Consider Before Purchasing A Projector For Under 500
There are a few essential factors it would be a good idea to consider before you buy your new projector, whatever your intended use, home cinema, gaming, or business presentations.
Projector Type
Looking at projectors under $500 gives you two projector formats to choose from; DLP and LCD. As you would expect there are advantages and disadvantages to both types. Consider what your precise needs are and go with that projector.
Screen Size
Choosing the ideal screen size is vital to your enjoyment; however, we're not talking about the projector screen. The projection size we're concerned with; which is the size of the images we're viewing on the screen.
Brightness
There's nothing worse than watching a movie, and the picture is too dark to make out any detail. It's also a waste of time if the images are too bright. Determine the location for your projector and the time of day you'll be showing movies or gaming.
If the area is pretty dark with barely any natural light coming in, then you might be able to get away with a lower dimmer projector lower lumens. However, if you're going to be showing movies during the day or outside naturally, the more lumens you get, the better.
Contrast
Contrast is another vital feature of the projector. It is the difference between light and dark. You need to choose a projector with the most amount of adjustable contrast; you'll be able to adjust the image until you are delighted.
Resolution
The higher the resolution, the better the picture quality; it's essential to buy a projector with enough resolution. Getting the highest resolution projectors will cost a lot more money. If we're talking about projectors under $500, then you might need to buy the best outdoor projector you can afford.
Throw Distance
Throw distance is the distance from your projector to the image. You want a projector that gives you the most precise possible image at the maximum throw distance of the projector. If you throw the images further than the recommended maximum set by the manufacturers, your pictures will be blurred and out of focus.
Projectors around the $500 price are capable of a maximum throw distance around  2-foot to 15-foot.
Conclusion
After reading through the best projectors for under $500 guide and checking out the reviews, I'm sure you already have an excellent idea of which projector is the best one for your needs.