Best Spotting Scope Buying Guide and Reviews
It's not every day that people need to buy a spotting scope. They're a unique and valuable piece of equipment, and they're crucial for so many hobbies that people everywhere enjoy.
The best spotting scope for one hobby may not work so well for another, so it's important to find a scope that's dedicated to the same thing that you are.
Make a list of the things you need, and look over some spotting scope reviews. Do you have special criteria you need to meet in order for a scope to be perfect for you? Think about how you intend to use your scope, and start your research here.
Our top Spotting Scops
| | | | |
| --- | --- | --- | --- |
| | Redfield Rampage 20-60x60mm Spotting Scope Kit | Spotting Scope Kit | Our Review |
| | Vortex 20-60×85 Razor HD Spotting Scope | HD Spotting Scope | Our Review |
| | Authentic ROXANT Grip Scope | Grip Scope | Our Review |
| | OutNowTech TITAN 16×40 High Powered Monocular Telescope | Monocular Telescope | Our Review |
How To Tell if a Spotting Scope is Worth the Money
Spotting scopes can be expensive. Even if you're prepared to shell out the big bucks for a luxury spotting scope, you still deserve to know that the product you're buying is actually worth the price that you're paying.
There are a few things a savvy consumer should look for in a spotting scope to make sure they're getting a fair deal.
The Lens
Cheap lenses will easily get scratched and fog up. A great quality lens will usually have a special protective coating. Good hunting scopes usually come with fog-proof lenses.
This is essential for early morning hunts, hunts in humid weather, or hunts when it may rain. If you have to keep stopping to wipe the lens, you'll miss the perfect opportunity to shoot.
Obviously, magnification is very important in a lens. Some spotting scopes can be adjusted for a clear view for up to 600 yards. While you'll rarely need to use your lens to look this far, it's always nice to know that your scope will be more than capable should the need arise.
You'll also want a lens that won't catch a lot of glare. It doesn't matter how much the lens magnifies if it's just going to catch the rays from the sun, blinding you and washing out your target.
A lot of lenses come with glare protectant. If the lens isn't already prepped with this special coating, it may come with a lens filter that will work to balance out the natural sunlight.
The Exterior
If the case of your scope is just going to fall apart on you, it doesn't matter how good the other components are. Scopes are intended to be used outside, and that means they'll be exposed to the elements.
When possible, always select a waterproof spotting scope – especially if the scope is too large to put in your pocket if a surprise rainstorm should strike.
For spotting scopes intended to be used for shooting, like target practice scopes or hunting scopes, it always helps to pick something with a rough exterior. Recoil can cause you to knock the scope over, or flying debris may hit your scope.
You'll get a lot more peace of mind knowing that the shell of your spotting scope can take a hit without falling apart.
This is especially important because the shells aren't replaceable. If they crack or snap, you'll have no other option but to purchase an entirely new scope.
If you're worried about using a gun around a particular scope, it's not worth taking the risk. Always opt for something rough and rugged.
The Different Types of Spotting Scopes
It's rare that any old spotting scope will do. They're a special tool, and every scope has its own unique qualities that make it perfect for a specific task. There are few scopes that can do everything, but that's not necessarily a bad thing.
You want the features of a spotting scope to work to your advantage, and that makes it worthwhile to purchase a specialty scope.
Hunting Spotting Scopes
Hunting scopes are built to be rough and rugged. Most of the time, they'll blend in with your hunting camo. They're meant to be mounted low to the ground so a hunter can easily look through them while lying flat on the ground.
They need to have a long range, allowing a hunter to spot pray without being seen or heard.
Great hunting scopes are designed to be used in any weather condition. Hunting can get wet and messy, and the right scope will be prepared to handle that. Many of them have reinforced exteriors to keep them going strong in the face of flying debris or recoil.
They should also be easy to carry around the woods without adding too much weight to a hunting bag.
Target Shooting Spotting Scopes
Spotting scopes for target hunting are similar to hunting scopes, but the small differences count for a lot. These are sometimes heavier, because they won't need to be moved at a moment's notice.
Paper targets don't change direction or run away, so weight won't necessarily be an inconvenience.
These scopes are designed to teach you. They're the kind of scopes you'll want when you've just purchased a new gun and you want to learn to use it intuitively.
Target shooting scopes are perfect for training because they allow you to identify the things that you're good at, as well as the things you need to improve on.
Bird Watching Spotting Scopes
Most bird watchers prefer lightweight, handheld scopes. They're easy to carry around hiking trails or parks to follow the birds from place to place. Some of them can be used for a tripod, but those scopes are best when the bird watcher intends to stay in one place.
The most popular bird watching scopes come with small wristlets or lanyards that can be attached to the end in order to make them convenient to take with you.
Birds are often scared away by the smallest little noise, so compact scopes that adjust easily are perfect for sneaking around without creating a disturbance.
On the other hand, there are also bird watching spotting scopes that come with camera or smartphone mounts that allow enthusiasts to capture their subjects in beautiful detail. It all depends on how the bird watcher wants to use the scope.
Budget Spotting Scopes
Budget scopes can be used for a wide variety of things. They're especially great for people who don't want to spend a ton of money on a scope they won't use very often.
These scopes serve a wide variety of purposes. Whether you want to watch wildlife or simply get a better view of a sporting event from a seat that's very far away, having a budget scope handy will prove to be useful more often than you might expect.
Some people even use these during meteor showers or lunar events to get a better view of the sky. The possibilities are endless, and it's great to have one of these lying around. They're less expensive than telescopes or binoculars, and they serve just about the same purpose.
There are also budget specialty scopes for people who need a scope for a specific reason, but don't want to empty their wallets all on a single purchase. Great gems exist for a steal, you just have to be willing to do a lot of research.
Tripods for Your Spotting Scope
There are all kinds of spotting scopes. Some of them are meant to be handheld, and some of them are meant to mount directly to your gun. Others are designed to be used with a tripod.
A lot of these scopes come with tripods, but sometimes they aren't the optimal size you'll need to get the job done.
If your scope doesn't come with a tripod or you're interested in finding a different one, this can sometimes be tricky. A lot of the time, people who intend to use their spotting scope for target shooting prefer a longer tripod that can be set up directly on the ground.
The same goes for bird watchers who intend to use their scope for photography.
This is a consideration you'll want to make before you purchase a scope. Often times, tripods are inexpensive and easy to swap out. If you find the perfect scope but you find the tripod lacking, all you need to do is purchase a separate one and use that instead.
We will have a separate article on the best tripod for spotting scopes.
Find the Best Spotting Scope for You
Spotting scopes aren't all the same. A great spotting scope for hunting would probably be a terrible spotting scope for bird watching. It helps to understand your exact needs before you purchase a scope.
Due to the nature of scopes made for different tasks, it may be worth buying several different scopes if you need them for a variety of hobbies. These spotting scope reviews will help you find a scope you'll be eager to buy.
Best Spotting Scope for Hunting
A great hunter needs a scope that won't fail. Hunting scopes are usually colorized to match camo, reducing their visibility and allowing the hunter to slip into the background. These scopes work perfectly for a hunting rifle, allowing you to get that buck or wild hog from hundreds of yards away.
They'll never see you coming, and you'll be able to bag a bigger one than any of your hunting buddies would ever dream of.
BARSKA Colorado Waterproof Spotting Scope

This scope functions at maximum performance all the way up to 60x magnification, which is typical for most high end scopes. Since this one is waterproof, you don't have to call off the hunt when it starts raining.
The lens will never fog up, so you won't miss your target having to stop and make adjustments. This one comes with a tripod and carrying case, so it's easy to take with you wherever you go, you won't need any extra equipment to get started with this model.
Redfield Rampage 20-60x60mm Spotting Scope Kit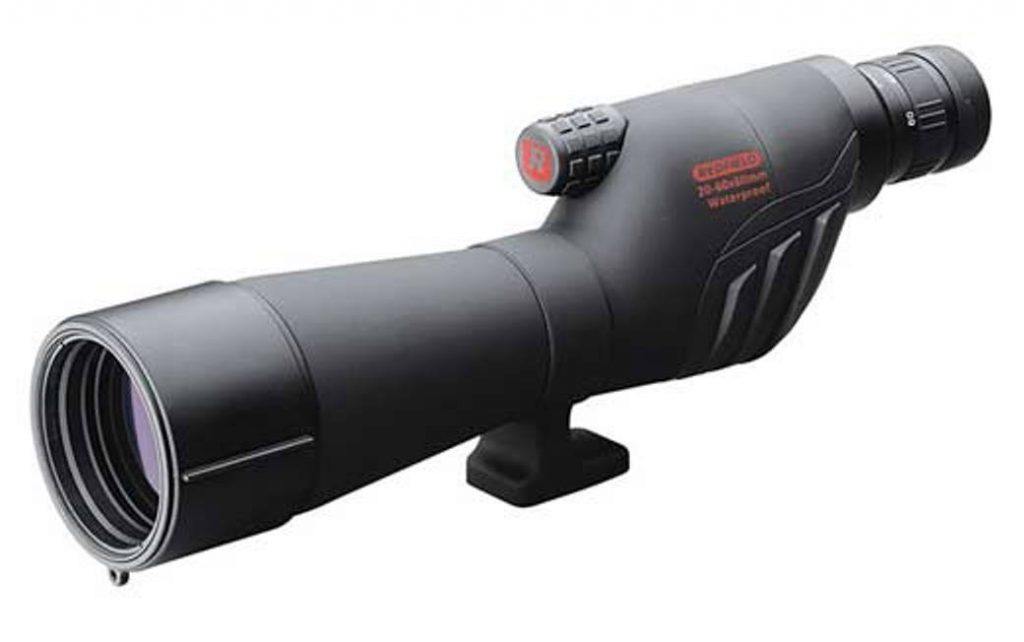 This scope will work well for targets up to 300 yards away without any disruptive distortion. The straight eyepiece makes it easy to use if you prefer to shoot lying on your stomach.
Expect a great view all the way up to the 60 power mark. You'll be able to get more detail than you actually need before you shoot.
You can count all the points on a buck and hand pick your favorite target from a significant distance. Add that to the fact that this model is reasonably priced and you can't go wrong.
Vortex 20-60x85 Razor HD Spotting Scope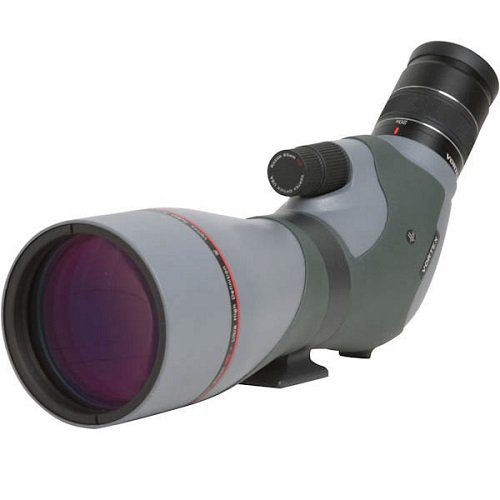 The exterior of this scope is reinforced, so you won't have to worry about damaging it. The waterproof and fog-proof coatings make this scope work perfectly well in the rain or the morning dew during an early hunt.
The body is angled, so you can look through it from a seated position without having to lower your body completely to the ground. The lens is coated with a special film that reduces glare, so the sunrise or sunset won't spoil your view.
Best Spotting Scope for Target Shooting
It's important to have a reliable scope for target shooting. It's a learning tool that will allow you to fine tune your ability to shoot at long distances. Even if you only target shoot as a hobby, the right scope can help you learn enough to do it competitively.
This will enhance your skills and help you break your personal records. After a while, you'll be able to duplicate them without the help of a scope.
TZWNS Red Dot Scope 3 Modes Zoomable Laser Sight Scope
This scope is excellent for beginners who are only learning to master the hand and eye coordination involved in hitting a target perfectly. It's a laser scope, so it couldn't possibly be any easier to figure out where you're supposed to aim.
When you're working on developing your steady hand and learning the quirks of your target shooting gun, this scope will become your best friend. You won't go to the range without it.
Sightmark Spotting Scope Kit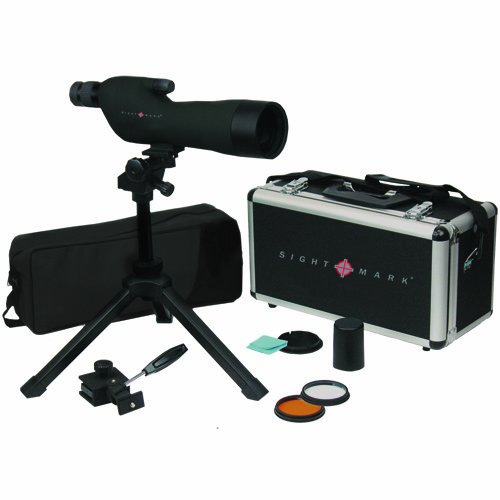 This kit comes with everything you could possibly need – including special lenses that reduce glare and improve color accuracy.
Your targets aren't going to run away while you're adjusting your scope to the exact specifications you need, and it may be worth taking the time to set up the perfect shot.
The carrying case and included accessories make this kit largely portable. It's just as good for indoor shooting as it is for outdoor shooting.
Emarth 20-60x60AE Waterproof Angled Spotting Scope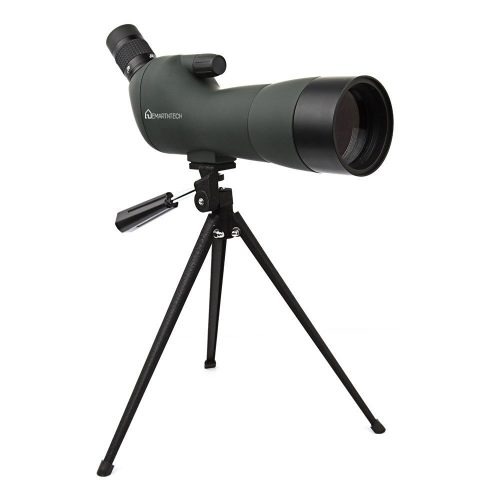 This is a great basic scope for outdoor target shooting. The optics are coated and fog resistant, and the entire body is waterproofed. The scope is ergonomically designed, so it's easy and intuitive to make slight adjustments as you go.
This one's good for hundreds of yards, allowing you to really practice shooting targets from long distances. There's nothing fancy about this one – it's just a good spotting scope. It's simple, inexpensive, and everything you need to get the job done.
Best Spotting Scope for Bird Watching
The best spotting scope for bird watching will always be portable and unobtrusive. You need to be able to take it with you as you travel through the wilderness to find the perfect spot to observe your favorite species.
Bulky scopes can be noisy to set up, and you don't want to risk scaring the birds away. Handheld scopes work best for bird watching on the go, and it's easy to jump right in when you see what you're looking for.
Gosky 20-60X 80 Porro Prism Spotting Scope
There's something really amazing about this, and there's no question why it's among the top rated spotting scopes. This scope comes with a phone adapter that will allow you to photograph the birds you're observing.
Take videos of birds in their natural habitats. Make a short documentary about a flock of birds as they go about their lives. The possibilities are endless for the real bird watching enthusiast.
You can't beat the price – especially for what you're getting.
Authentic ROXANT Grip Scope
This scope is very simple, and it's easy to take with you. It comes in a small kit with a carrying case, a lanyard, and a lens cleaning cloth. Textured grips make it easy to hold with one hand with minimal shaking.
The eyecup can easily be used by people who wear glasses with a few simple adjustments. It's light enough to carry up a mountain, and you can start using it as soon as you see birds. No setup makes for a quick response time, so you won't miss a thing.
Polaris Optics Explorer High Powered 12X50 Monocular
This is one of the best spotting scopes money can buy, and it's received an astounding amount of spotting scope reviews in hobby magazines. Bird watchers all over the world are quick to sing the praises of this waterproof, fog-proof scope.
With up to 50x optical zoom, there's absolutely no reason to get close enough to scare the birds away. It works perfect as a handheld, and the advanced lens will show you every detail with spectacular clarity. You'll be counting feathers from yards away.
Best Spotting Scope for the Money
Smart shoppers don't want to spend a ton of money on a trusty spotting scope. Thankfully, plenty of great spotting scopes exist for people working with smaller budgets. You might not get a lot of fancy features with these scopes, but they'll still work in a pinch.
If you're interested in the best value spotting scope, you'll likely find it in the form of one of these.
Pinty 6-24x50 AOEG Red & Green Rangefinder Spotting Scope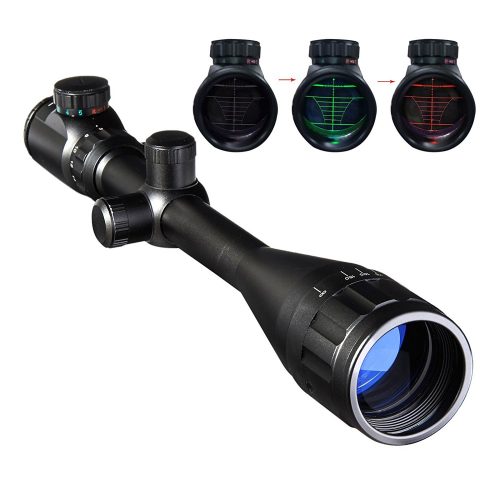 This is a budget rifle scope that you'll be glad to own. It's designed as a piece of tactical equipment, and you can even illuminate the reticle in your choice of red or green. It's weatherproofed, so a little water isn't going to spoil your good time.
It's designed to stand up to recoil, so you can mount it directly to your rifle. The metal construction will hold up for years. It can even magnify up to 24 times, which is excellent for an inexpensive scope.
Fangfei® 35X50 Monocular Telescope Dual Focus Adjustable Spotting Scope
This is a compact cheap scope that can be used for just about anything. With up to 35x magnification, it can be used for all kinds of shooting, as well as observing wildlife.
It's small enough to comfortably hold in your hand, and it's convenient to carry around. It comes with a clip that can mount to your smartphone's camera for capturing long distance photos and videos.
OutNowTech TITAN 16x40 High Powered Monocular Telescope
This spotting scope can be used for a lot of things, but it will be most useful for people who enjoy bird watching or observing wildlife. It features a textured grip to keep it from slipping out of your hand, and it comes with a band so users can wear it as a wristlet.
Focus adjusts with one moving part, so anyone can figure it out. It's simple enough for a child to use, but good enough for an adult to enjoy.
Which Scope is Best for You?
After reading the spotting scope reviews, it's easy to tell that the best spotting scope is different for each person and their needs.
Spotting scopes make so many hobbies infinitely easier. When you have one, you'll never miss a thing. Consider your budget and the specialty you require, and you'll find that it's easy to narrow it down to the scope you've always wanted.