Best Microscope Buying Guide and Reviews
It's not every day that you go microscope shopping. If you're on the market for the best microscope, it might be difficult to figure out exactly what you're looking for. Every microscope is best suited for a specific purpose.
Think about what you're trying to do, and narrow down some of the excellent models to find the one you'd love to buy.
Our Top Microscopes
| Picture | Microscope | Review |
| --- | --- | --- |
| | AmScope M150C / M150C-I 40X-1000X Compound Microscope | Our Review |
| | My First Lab Duo-Scope Microscope – MFL-06 | Our Review |
| | OMAX LED 40X-2000X Digital Binocular Biological Compound Microscope | Our Review |
| | OMAX 40X-2000X Digital Lab LED Binocular Compound Microscope | Our Review |
What to Consider When Buying a Microscope
The most important aspect of a good microscope is what the features will allow you to do with it. If you like to observe organic material like plants and insects, you won't need a microscope built for something as complicated as cellular biology. If you go for a luxury model, you may be overpaying for features you won't use.
If you're a coin collector or you work with miniature figurines, a USB microscope will probably be the best choice for you. If you want to look at regular small organisms, a simple compound microscope will get the job done.
If you want to grow and observe bacteria, a digital compound microscope will offer you full color capabilities and give you the option to take pictures when the microscope is connected to your computer.
If you're purchasing a microscope for a young student or a child with a passion for science, you're best off purchasing a small microscope kit that comes with some viewable slides and accessories.
These are like portable science labs that your children can take from place to place. Oftentimes, they're relatively inexpensive for all of the bonuses that come with them.
TOP 10 Best Microscope Reviews
If you're looking for the best microscope, look no further. There's a microscope for every purpose, and you're sure to find one that will work within the confines of your budget.
AmScope M150C / M150C-I 40X-1000X Compound Microscope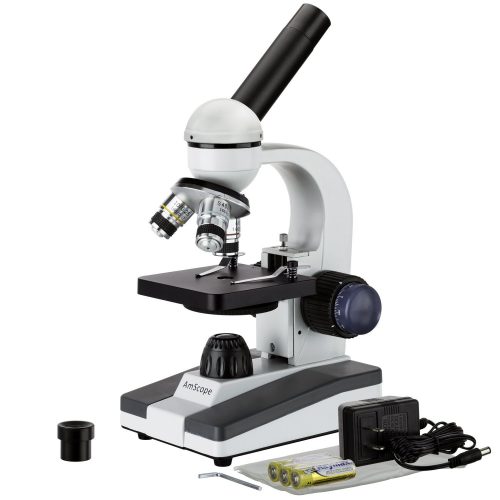 When you're looking for the best microscope, AmScope is a brand name you'll encounter a lot. They make some incredible microscopes, and this particular model is a steal.
It comes with five magnification settings – 40X, 100X, 250X, 400X, and even 1000X. This is a lab quality microscope similar to the ones you'd find in some of the greatest schools in the world, and it's amazing how affordable this technology has become.
Pros
The framework is entirely metal. No plastic parts that will bend or snap.
This microscope is lightweight, coming in at less than 5 pounds. Since it can be used with either a direct adapter or batteries, it's easy to carry around.
Reasonable price point makes this microscope accessible to everyone.
Cons
Doesn't come with glass slides – they'll need to be purchased separately.
Verdict
This is a good microscope for students, and it's affordable on a student budget. If you or your child is studying biology, they'll appreciate the home experiments they can do with this high tech budget microscope.
It makes lab style research easy for anyone, anywhere. Since it's so compact and portable, it's easy to take back and forth to school or use in a cramped dorm room.
AMSCOPE-KIDS M30-ABS-KT2-W Beginner Microscope Kit
With this kit, you'll be ready to start some fun educational experiences as soon as you take it out of the box. You're getting a microscope with 6 magnification settings that go all the way up to 1200X. This is a simple compound microscope, and it's so easy that anyone can use it.
Pros
Everything you need to get started comes right in the kit. You won't need to make any separate purchases.
Comes with a storage box that holds all of the accessories, as well as the microscope. It's easy to store when not in use, and you'll be able to tell if you've misplaced any of the components.
This won't break the bank. It's priced perfectly for a kid's microscope.
Cons
Difficult to photograph magnified specimens through the small aperture.
Verdict
If you want a good beginner microscope, this is a great place to start. It's easy to work into your budget – you're getting everything you need at a price less than what you might expect to pay for a microscope alone.
It's the best microscope for kids, but even adults will appreciate this kit for viewing small samples or specimens. It's a fun way to interact with your environment, and it can even be used to look at things like leaves, flower petals, or bugs you've found in the back yard.
My First Lab Duo-Scope Microscope - MFL-06
A lot of professional laboratories use duo-scopes, and this is a duo-scope that's inexpensive enough to purchase for home use. This is a nifty gadget for children who are interested in science and technology. It's easy to use, and small enough to fit next to their science homework on their desks.
Pros
Comes with a small set of accessories that can be used for experiments. You're getting glass slides, pipettes, forceps, and even a petri dish.
Since this is a duo-scope, it can be used as both a regular microscope and a magnifying glass.
Strong enough to view individual blood or skin cells.
Cons
Both sets of lights can't be turned on at the same time.
Verdict
This is the best kids microscope for science minded learners. If your children love to pick flowers and leaves or study insects. It's great for getting an up close look at organic material or small household objects.
Inquisitive minds will love playing with this microscope. It's designed for kids to use, and it even comes with an accessory pack.
Promotion Set: OMAX 40X-2000X Lab LED Binocular Compound Microscope
This is a serious microscope, and it's good enough to be used in a professional setting. It comes with 8 magnification powers and 4 viewing heads.
This microscope can be used either with a direct adapter or batteries, making it convenient for setting up a work station or travelling with your experiment. This is the best homeschool microscope, because it's like having a portable science classroom.
Pros
Two viewing heads provide an excellent comprehensive image.
Comes with some basic starter accessories, like glass slides and lens papers.
Fits all the criteria a microbiology student would need for studying purposes.
Cons
Can't scan an entire coverslip. You need to move it manually.
Verdict
This is the best microscope you'll find in this price range. It's no wonder it's one of the top rated microscopes. It's a medical style microscope, much like the ones used by doctors and veterinarians.
It's just as good for a hobbyist as it is for the average university student. 
Carson MicroBrite Plus 60x-120x Power LED Lighted Pocket Microscope
Microscopes aren't generally regarded as pocket sized pieces of equipment, but that's exactly what you're getting here. It's equipped with a small but powerful LED light, and runs on a single AA battery.
It comes with two powers, 60x and 120x, which will allow you to view most specimens with sufficient detail.
Pros
This is perfect for finding specimens in the field. If you're out in the woods or by the ocean searching for a particular organism, you'll be able to find, identify, and collect specimens for further study.
Fits right in the palm of your hand. It doesn't get more lightweight or portable than this.
Designed to prevent glare, making it easy to use this microscope outdoors.
Cons
Can't be used for detailed slide studies or microscope photography.
Verdict
This is the best microscope to take out into the field. It's the best microscope for kids to take out on environmental field trips, as they'll be able to learn right where they're standing.
You're able to identify the things you're looking for immediately and only bring the best specimens back to your lab or home microscope station.
AmScope B120C-E1 Siedentopf Binocular Compound Microscope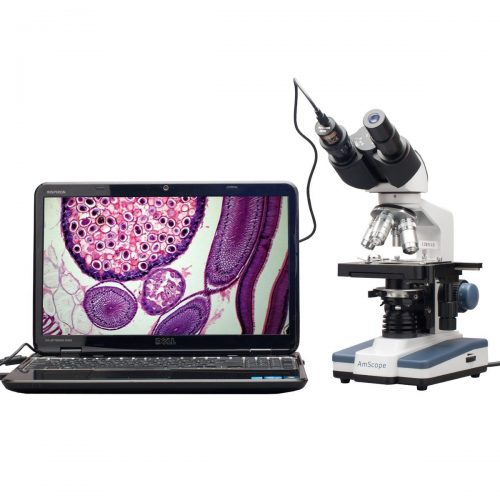 This is the best digital microscope in the price range. You're getting 6 magnification settings, as low as 40x and as high as 2500x.
This has a three dimensional double layer mechanical stage allowing you to observe things in incredible detail. Color filter allows you to get stunning contrast on all of those little details.
Pros
3 MP camera allows you to take professional quality photos of the smallest samples.
Comes with software that allows you to modify images for better viewing.
Binocular style head swivels a full 360 degrees.
Cons
Camera isn't designed for USB 3.0 or higher.
Verdict
If you're on the market for an entry level digital microscope that won't break the bank, you're going to love this one. It's loaded with everything you need to capture and manipulate high quality images right on your desktop or laptop computer.
This is great for students, scientists, and serious enthusiasts. This is the best microscope for viewing bacteria – all you need is a culturing kit.
OMAX 40X-2000X Digital Lab LED Binocular Compound Microscope
This is the best digital microscope that OMAX makes. With its live video feed capabilities, you can manipulate objects in full contrast with adjustable photographic capabilities.
It comes with all the software you'll need to get started. You can magnify up to eight levels with an image output resolution of 1280 x 1024 pixels. At a size that big, you can print quality photos of your observations.
Pros
This can be used for observations in real time. If you need to record a video dictating your observations, it sends a live feed right to your computer.
Still images and moving video come out in virtually HD quality. These images are so crisp, they could be published in a textbook.
This model is used by actual biologists and environmental scientists.
Cons
Some drivers required for the software to be manually downloaded from the website.
Verdict
There are few digital microscopes that can actually promise you high quality livestreaming capabilities, and this is one of them. Turn your science project into a video project without any extra effort.
Being able to record the movements of your specimens in real time is a huge advantage, and you can't beat the price of this microscope – especially not for what it does.
JINGOU Portable USB Digital Microscope
These cool new USB microscopes are fun little tech toys for the casual scientific explorer who loves to have all the latest gadgets. It's handheld, and it connects right into your computer's USB port.
This is designed to work for small objects and organic material. If you want to get a good look at an antique coin, or even discover the fibers of your own fingernail clippings, this USB microscope will allow you to do that.
Pros
Comes with 8 small USB lights built in to the camera. You won't need to get a special lamp to improve your viewing quality. They draw right from your computer's power source, and no batteries are required.
Sensor picks up color. You won't need to manually colorize the screen captures you take with this microscope.
This microscope is super portable. It's easy to take it back and forth to school with you.
Cons
Works best with Apple devices. Windows users may need to find special drivers to run the microscope.
Verdict
This is the best USB microscope for people who own Apple laptops. Even if you're only casually interested in microscopes, you'll find a ton of cool uses for this device.
Since it's designed for low power consumption, you can even use it when your laptop isn't plugged in. Take it to the park with you and get a good look at all the small beetles and leaf patterns.
Plugable USB 2.0 Digital Microscope with Flexible Arm Observation Stand
This is more than your average USB microscope. Its simple technology is designed in such a way that even the most serious microscope enthusiasts will love.
The only limit to the magnification is the size of your monitor. If you have a three monitor setup, you'll be able to see details you never before thought were possible. This microscope takes technology to the next level.
Pros
Comes with an observation pad that includes rulers and a standard grid. This grid can be used to line up slides perfectly, or even view uncovered objects and take detailed measurements.
Camera capabilities go up to 2 megapixels – something that even the most expensive microscopes rarely offer.
Operates the same way webcams operate. If your computer has a webcam or is webcam capable, you can use this microscope.
Cons
LED lights may reflect off of glossy or wet objects.
Verdict
This is the best USB microscope for people who are passionate about the little details. Coin collectors love these kinds of USB microscopes for getting a sharp glance at their collection.
Collectors and hobbyists alike will enjoy the convenience of this microscope. You'll never run out of ways to use it.
OMAX LED 40X-2000X Digital Binocular Biological Compound Microscope
OMAX is known for their top of the line technology, and this is the king of all microscopes. This is a luxurious home model. If you're looking for the best microscope commercially available, this is likely to satisfy all of your needs.
The specs are all amped up off the charts. This exceeds the quality that most professional scientist use in legitimate laboratories – and you can have all of that technology in your own office.
Pros
This features a 3 megapixel camera. Most microscopes cannot even come close to that image resolution.
The LED light can be dimmed and brightened to your exact specifications. It's also easy to replace the LED lights on your own if the diodes ever go out.
This microscope has the capability of viewing and measuring individual cells.
Cons
This model is pricier, but you undoubtedly get what you pay for.
Verdict
This is the best microscope you can buy for very precise work. It's almost shocking the amount of detail you'll be able to get.
This is similar to microscopes used for DNA work, and if that's not a testament to superior quality, nothing will be. You're going to adore this microscope and find yourself amazed with your observations.
What's The Best Microscope for You?
The best microscope all depends on your intended purpose. Advancements in technology have made incredible telescopes available for home use, and prices are lower now than they've ever been – even for premium models.
You'd be glad to own any one of these, but the most important decision to make is what kind of things you want to do with it.