Celestron 127EQ Powerseeker Telescope Review
The Celestron 127EQ Powerseeker Telescope is a perfect telescope choice for beginners to intermediate aspiring astronomers. It makes a perfect gift for children or any other young-aged astronomy enthusiasts.
Astronomy aficionados appreciate the experience and exciting view provided by this telescope model. To begin, it is a Celestron brand, which is among the most sought-after scope brands currently.
The Celestron 127EQ Powerseeker Telescope is part of the company's Powerseeker series with an outstanding reputation and supreme quality. It is a perfect combination of utmost quality, power, and affordability.
Features
The Aperture
For any telescope, its aperture is the most essential feature. That said, the Celestron 127EQ Powerseeker Telescope is embodied with a 5 inches aperture. This is the perfect size for a starter and intermediate astronomy enthusiasts. You will be able to view the moon's superb details, brighter planets, star clusters as well as nebulas.
It is due to this aperture size that many astronomy experts refer to it as a crossing telescope. The reason being that it provides an excellent transition from the beginner or first level of astronomy to mid-intermediate level. Other notable aperture related features include a Newtonian reflector, a 1000mm focal length and a focal ratio of f/7.87.
Mount and Tripod
The mount is perhaps the most underrated feature of a telescope by many enthusiasts. The mounting of the telescope is as important as the telescope. As the name suggests, the Celestron 127EQ Powerseeker Telescope has an equatorial mount. This is specifically designed for astronomy telescopes. It also has two manual, slow-motion controls that allow smoother tracking of objects as they circumnavigate the night sky.
The mount also has an altitude adjustment screws lock setting for easier adjustment. Other notable aspects of the mount include an etched ascension and declination scale, removable counterweight bar and a dovetail plate that enables easy assembly and breakdown.
Moving to the tripod, the Celestron 127EQ Powerseeker Telescope has a lightweight aluminum tripod. Despite being lightweight, it is solid, robust and comes with an accessory tray. The accessory tray comes in handy in helping you keep extra eyepieces and other items such as T-rings close.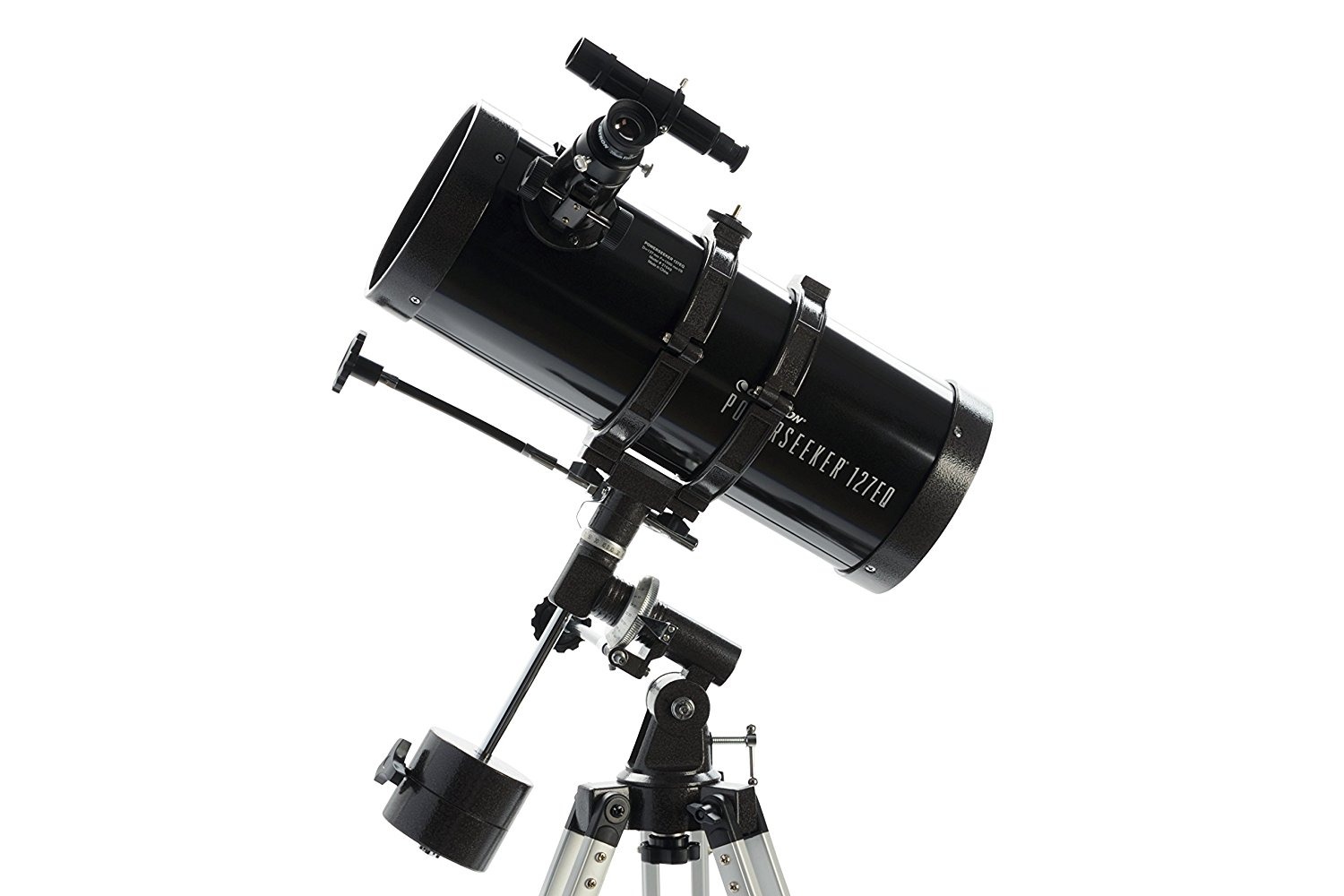 Accessories
Purchasing the Celestron 127EQ Powerseeker Telescope from reputable online stores comes with several accessories. Some of the accessories include:
Eyepiece. The Celestron 127EQ Powerseeker Telescope comes with two standard eyepieces. One 50× magnification (20mm) eyepiece and 250× (4mm) magnification. The eyepieces accept 1.25' filters. Just to mention, the 20mm eyepiece is fitted with an integrated prism that corrects images horizontally or vertically making it suitable for terrestrial use.
Barrow lens. This telescope has a 3× barrow lens used to increase magnification.
Finderscope. The Celestron 127EQ Powerseeker Telescope has a low 5× finderscope with a wide field of view thus allowing an easier set-up, star navigation, and alignment. Besides, it also comes with a 24mm aperture used to resolve bright objects.
The Celestron 127EQ Powerseeker Telescope also comes with an easy to read user manual. This makes it easy to set up, maintain and provide the utmost care for your scope.
Price and Affordability
Affordability is one of the impressive features of the Celestron 127EQ Powerseeker Telescope. That said, the modest telescope price ranges at about $200 or less. Not only is it a great bargain but also affordable to maintain its high levels of quality.
Portability
The Celestron 127EQ Powerseeker Telescope is a comparatively portable telescope that fits any type of car truck. Besides, it leaves enough space for additional camping or picnic luggage. Assembling the telescope is easy, and no tools are required.
Warranty and guarantee
All telescopes, to ascertain genuineness, provide a specified warranty period and guarantee. For this scope model, Celestron offers 2 years warranty.
Maintenance advice
Note that the Celestron 127EQ Powerseeker Telescope is a Newtonian telescope. Therefore, collimation should occasionally be done. This might be daunting for beginners. Besides, this telescope needs little maintenance work. However, the maintenance practices aren't much different from other telescopes. Just to mention, key maintenance measures and tips include the following:
Care of the optics. Optics are an essential component of the telescope. Some of the common contaminants of the optics include dust and moisture. That said, they should be removed ardently. Dust can be eliminated by using a soft camel brush. In the absence of the brush, use a soft tissue but avoid rubbing in circles. Cleaning with low to no pressure, beginning from the center of the mirror/lens to the external segment is the other technique. After cleaning, remember to apply a cover-lens to prevent it from further contamination.
Desist from repairing or adjusting the telescope. In case your scope breaks down, return it for the manufacturers to repair it. Trying to repair it yourself may result in loss of warranty.
Obey the golden rule of all telescopes. If you aren't aware, the rule states that you should not look directly at the sun using your scope. This will damage both your eyes and the telescope.
Avoid using the Celestron 127EQ Powerseeker Telescope as a projector. Note that telescopes are not projectors. Any source or form of internal heat may damage the scope immediately.
If the telescope belongs to your child, always supervise its usage. Besides, always be cautious with your optical instruments.
Pros of The Celestron 127EQ Powerseeker Telescope
There are many benefits associated with this telescope model. Some of the outstanding advantages include:
High optical quality
A large aperture size. This specific telescope brand has the largest aperture compared to other Powerseeker series models.
Magnification. The Celestron 127EQ Powerseeker Telescope has a barrow lens that triples its magnification.
Accessories. There are plenty of accessories that come with this scope type.
Easy assembly. As mentioned before, assembly of this scope doesn't require any tools as opposed to other telescopes of the same caliber.
Portability. The Celestron 127EQ Powerseeker Telescope can be carried anywhere easily.
Affordability. This telescope is available at a remarkable price tag.
HG optics. This telescope has multi-coated optics that provide vivid images of the objects under observation.
Warranty. As mentioned, this scope has a 2-year warranty.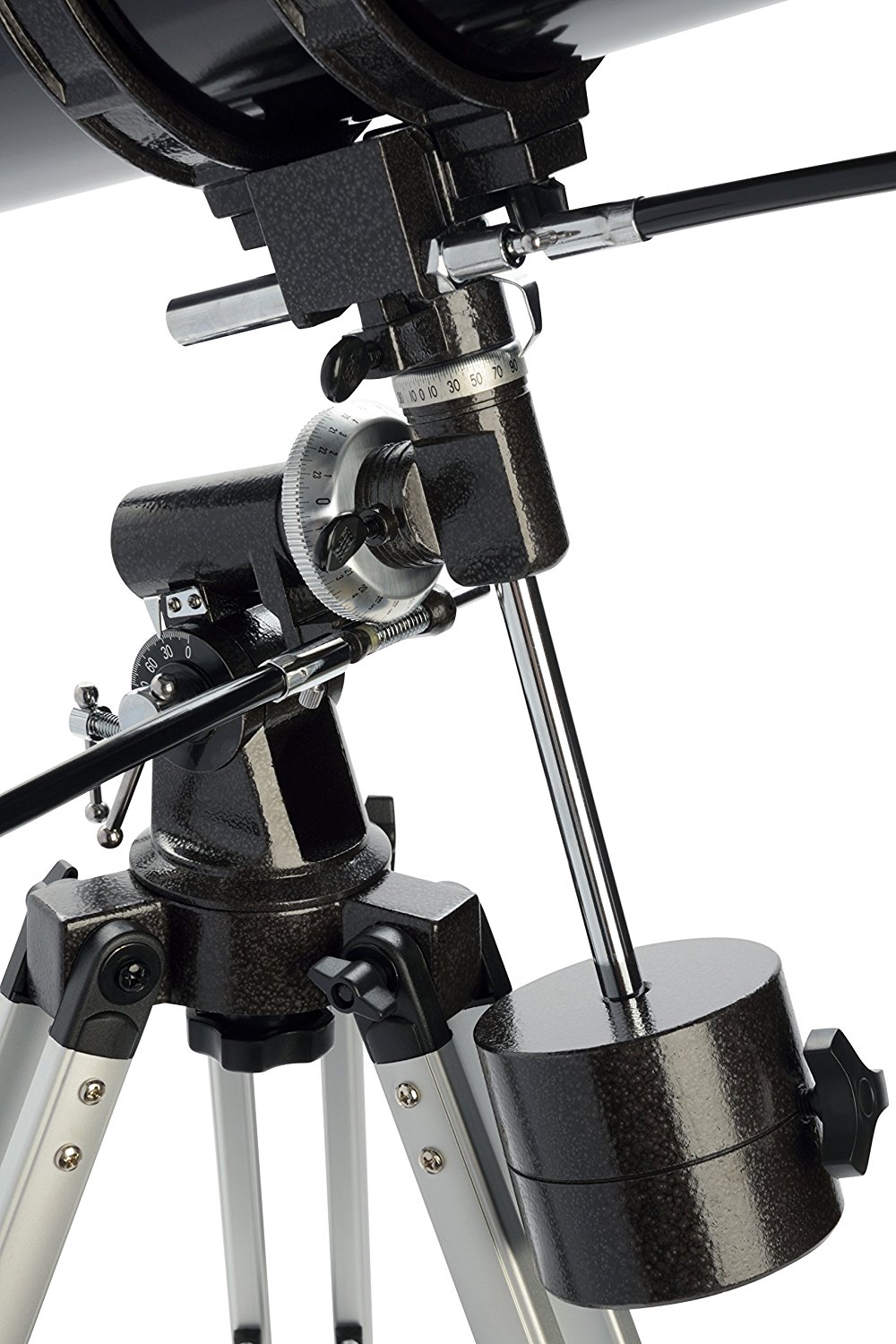 Cons of the Celestron 127EQ Powerseeker Telescope
There are two main drawbacks of using this telescope brand. They include:
Requires more care. Dealing with a Newtonian reflector for a beginner might be quite daunting. It is quite fragile and requires some more care.
With time, it may require eyepiece upgrade.
Conclusion
The Celestron 127EQ Powerseeker Telescope provides more than you would expect for a telescope of its price range. This telescope type should be your highest contender for beginner astronomies. Besides, a slightly experienced amateur and a keen telescope hobbyist should consider this model. Its extra-large aperture and excellent optics ascertain a superb image definition and illumination.
Other notable features that make this scope model in the Powerseeker series rule among the rest include a reliable tripod stand and mount. With this, you will spend pleasurable hours of the night tracking objects through the intriguing night sky.
Take advantage of its great focal length and other abundant features. Many people prefer to use the Celestron 127EQ Powerseeker Telescope for various observations.
Basic observation, astrophotography, objects like the Orion nebula or Lagoona nebula, Jupiter, Venus and the Mars, just to mention a few, can be viewed vividly through this telescope.